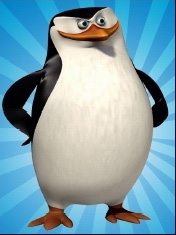 Sweetness has this thing for the Penguins of Madagascar. To be honest, Mommy has found them to be mighty entertaining and a hell of a lot better than Barney or any of the other toddler shows out there. The Penguins come in 15 minute episodes, so she can see one, maybe two a day. And I have to admit I never tire of watching them. We love them so much we made Daddy copy them off the DVR and make us a DVD of them. Oh joy of joys, Penguins at our fingertips. After he went through countless hours to do that, we discovered the Penguins are now out on DVD. Nevermind. Here is just a quick peak of why Mommy loves this show so much. Keep in mind, half of the humor is in the delivery. These quotes are all from one episode "Choked Up":
"That dame is a riddle, wrapped in a mystery and dunked in nasty sauce." – Skipper
"Yak Attack Antivomiting Syrup: We take the you out of spew." – Mason
"That's the plan? Blow us up one by one with unregurgitatable gut bombs?" – Skipper
"A little concoction I like to call Number 12: two scoops of squirrel lint, dash of baboon spit, used kitty litter, one hippo toenail and anything we could find in the monkey cages." – Kowalski and Skipper
And a personal favorite quote from "Dr. Blowhole":
"You'll find that sarcasm is more effective if you don't giggle it out like a naughty school girl." – Skipper
Cute and cuddly boys!!