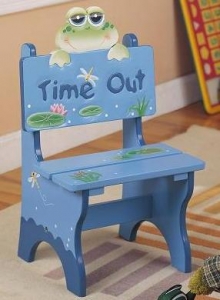 Time outs are a hot topic. I got a lot of comments and e-mails about it when I wrote about the 17 Guidelines of Positive Discipline. There are a lot of people out there that have instituted them and swear by them.
The tricky thing about time outs is they work, but if used as a punishment, they work for the wrong reasons that can really come to bite you down the road. To better understand this, it's important to take a quick look at punishment on a whole. There are six main forms of punishment:
physical – hitting, shaking, pushing, pinching, ear twisting
Verbal – sarcasm, put-downs, ridicule, threats, humiliation
Isolation – banishment, extreme grounding, time outs
Withdrawl – withhold love and affection, take away unrelated privileges
Excessive tasks – working the chain gang kind of tack
Guilt
And the effects of punishment:
Stops the behavior temporarily
Distracts from the behavior
Is usually not logically related to the event (go to your room for hitting your sister)
Absolves the punisher of responsibility
Is often done in anger
Denies the child the chance to learn constructively
Escalates
May encourage negative behavior
Can create feelings of guilt or failure in the child
Teaches misconceptions about values
As a result of punishment, children will most often develop one of the following responses, the Four Rs of Punishment:
Resentment ("This is unfair, I can't trust adults!")
Revenge ("They're winning now, but I'll get even!")
Rebellion ("I'll do just the opposite to what they want!")
Retreat (Sneakiness – "I won't get caught again!" or Reduced Self-Esteem – "I'm a bad person!")
That said no one punishes their child with the hopes of the above effects or outcomes. We want to teach them discipline – how to properly act in society, for the lack of a better catchall. Yet, the only real effective way to teach them how to achieve this is to take every opportunity to teach the correct behavior.
Positive time outs are a very handy tool in developing responsibility and problem solving. Positive time outs can be a way to calm down before anger gets out of control, to encourage children to take control of their emotions and assume responsibility for their behavior, and to help children feel better so they can cooperate and behave well. Kids do better when they feel better. Positive time outs help them feel better where punitive timeouts foster negative feelings. What's more, positive time outs teach children the valuable life skill of learning to calm down before we say or do something we regret.
Here are some guidelines to follow regarding setting up this new time out:
It's important to involve your children in advance. Explain, in terms relevant to the age of your child) that there are times we get really upset and we need a special time and place to calm down before we say or do something bad. Work with him to choose or set up a place that will be calming and help him cool off, feel better and chance disruptive behavior into constructive behavior. It doesn't have to be his room, but any quiet, out of the busy area spot. Put things that comfort him there – music, books, special toys, stuffed animals. Katheryn Kvols in Redirecting Children's Behavior suggests modeling the process of using the special quiet spot. Get comfortable and ask yourself three questions: What is the problem? What is my part in the problem? What is the one thing I can do to improve the situation? Clearly, if you're dealing with a toddler or young preschooler, you can speak more appropriately, such as "Why am I mad? How can I make it better?"
Preserve your dignity and respect. Adult body language and tone of voice (which convey your beliefs) determine the message children receive about their behavior. It is important to be kind yet firm about inappropriate behavior while also remaining calm and respectful. ("Honey, I can see you're very upset but throwing your car is not right. You can hurt someone. It looks like you need to take a break to feel better.") Kvols suggests gently leading or carrying the child to the spot if he won't go on his own. However, Jane Nelson in Positive Discipline, A-Z, suggests first asking the child if she wants to go to her "feeling better" place and if she says no, ask if she'd like you to go with her. If the answer is still no, then model the behavior and state that you're going to go. Most likely the child will follow.
Give choice to increase responsibility. Assist children in deciding how much time they need in the time out area until they are ready to return and behave better. "You decide when you will feel good enough to come back and play without hitting. Would you like to set a timer?" Kvols suggests if the child comes right back but is acting properly, then carry on with the activity. However, if the poor behavior persists, gently lead the child back to the spot until she has calmed down and can act appropriately.
Use adult modeling. Adults can model using time out for themselves with dignity and respect. Kvols notes some children will get into a power play or battle over going to the time out spot. If that is the case, model the behavior yourself, telling the child that you're really upset and need a time out yourself and that you'll come out when you're ready. The best way to end a tug of war is to drop the rope. "I'm so upset about this right now, I need to take a break to cool down. We can talk about this when I feel better."
Notice this has nothing to do with sending the child away for behaving badly. You're making it clear that he is upset and needs help calming down. Positive time outs are for helping a child learn to self-sooth and put them in a place mentally where they're prepared to talk with you so you can together work out the root of the issue and develop a solution.
Once the child returns, depending on age and cues from your child, you can begin to discuss the issue. "Boy you were sure upset. What happened?" and so on in initiating some discussion. Problem solving is a whole additional topic.
Nelson warns, however, that positive time out (and time outs in general) are rarely appropriate for children under the age of three or four. Though some use this successfully in children as young as 18 months, be very aware of how you're using time outs. Are you isolating the child? This will cause a distraction from the behavior and the child will respond in a way you desire, not because he has "learned his lesson" but because he's afraid you might not love him and he needs to get your love back. He's in fear. We ultimately want our children to want to behave appropriately of their own volition, not because they fear reprisal, disappointment and lack of a connection with you. Remember that isolation can engender the Four Rs of Punishment. In the end it does take a lot more work and patience on the part of the parent to walk this positive discipline line, but the end result of a mentally healthy, self confident, self disciplined teen and adult will pay off in spades.