Mr. Man, in all his 10-month chunky glory, blew us away these past couple of days. At first I thought it was a fluke, so I didn't jinx it by talking about it here. But now, after five days of pulling the same stunt with increased level of proficiency, I'm feeling rather safe in announcing his newly acquired skill.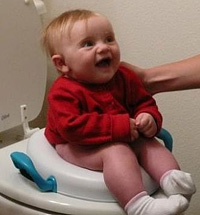 Mr. Man can use the potty. While I wait anxiously for the 2 1/2 year old Sweetness to do more than just sit there and demand more stories, Mr. Man just does his business and is done with it.
It happened innocently enough. We were giving Sweetness her "Tips and Tails," what we call her non-bath ritual where we wash her face, hands, feet and diaper area as she sits on the counter with her feet dipped in the sink. Hubby thought it would be fun to put our little Mr. Chunk on the potty seat I'd set on the toilet in hopes Sweetness would be inspired to use it. The little dude just grabbed on and went for it.
It made some sense. Suddenly there's a little breeze down there and he hears the water running in the sink. Who wouldn't just letter rip? The next day I went to a class appropriately titled "Goodbye Diapers," where I hoped to learn the secrets of convincing Sweetness that it was "time." When I returned, Hubby met me at the door with a smug look.
"What?" I asked.
"You're not going to believe this."
"She used the potty?!?" I said with maybe too much hope.
"Close. He did. And when he was done with peeing, I then started hearing 'plop!'"
"No freaking way! Our 10 month old son, the sex that takes the longest to learn this stuff, is doing BOTH in the potty? Did she watch? Did she take notes?"
Evidently, Sweetness helped Daddy encourage Mr. Man and even gave him a kiss afterward. Wouldn't it be nice if Baby Brother taught Big Sister how to use the potty by example?
Now, I'm not naive enough to believe that Mr. Man is doing any of this with the conscious intention to be potty trained, nor am I praising my superior parenting abilities. We just stumbled upon this, fully by accident.
But I'm now hopeful (maybe naively so) that if we make this a regular routine before bedtime, and possibly even a couple of times a day as we're attempting to convince Sweetness to use her potty, that he'll just form himself a nice little habit and we can at least save a few diapers in the meantime.
Then maybe, just maybe, when he's emotionally ready, he'll get the hang of it sooner than Sweetness has since he'll have been in the habit for so long. Wouldn't that be nice? Oh the blessings of little miracles.