A big thanks to all you brave souls who came to my garage sale and made off with my beloved baby gear. May you and your babies have many hours of enjoyment.
I really enjoyed talking to lots of new mommies and mommies to be. One big thing I shared was the amazing coop preschool system I've been attending. I promised to put something here about the program so here you have it.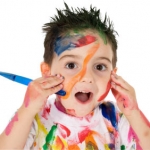 The preschool coop here in West Seattle is run through South Seattle Community College. However, I do know other community colleges around town offer similar programs. Just do a Google search for Coop Preschool and your neighborhood.
As for the one Sweetness (and next year Mr. Man too) attends, we heard about it through the great network of mommies here in West Seattle through Meetup.com. The groups I joined are the West Seattle Moms of Babes when Sweetness was a baby then West Seattle Teeter Tots. For moms of kids born between 2003 and 2006, there is also West Seattle Moms of Tots. Basically, the baby group turns over into a toddler group as the kids grow, keeping the moms of kids of similar ages together. It really is amazing. I highly recommend mommies in our neighborhood join these if for nothing more than the great friends you'll make. It was Jennifer, one of the organizers in the group I'm in, who recommended we sign up for the coop program as early as possible (with children under two) because once you have children over two, you're on a waiting list a mile long.
The South Seattle Community College Family Life department's website describes the schools best. Fall registration is already in progress so click on the link here and then click on registration for directions. Sweetness was in the Babies class since her birthday is in September. Even though she turned 1 a few days after school started, she was in that class. This year she's in Just Walkers and has already been registered for the Twos class next year.
Basically, it's a mom (or dad) and me class in the beginning. The Babies and Just Walkers classes are one day a week at two hours a day. You attend with your little one. There are two employees in the class, a teacher for the kids and a parent facilitator for the parents. They help you ease your little one into a preschool atmosphere. Age-appropriate toys and activities are planned. In those early, one-day classes, you spend the first couple of months just following your little one around. Then, as they begin to get comfortable, you're split into two groups. At that point, the first little bit of every preschool day is spent in free play (and you can follow your little one) then you break off into groups. The first group reports to a station in the preschool (sensory table, blocks, imaginary play, art, play dough, library, etc.) and the other half sits in a circle and have discussion. The next week you rotate. Kids are welcome to come hang with their parents at their stations or in discussion. The discussions are phenomenally valuable. The trained parent facilitator usually has a topic to discuss (which I've yet to find less than extremely helpful), but she's always open to any issues we want to discuss. I particularly love that this year I have several other moms who have older children and when I throw out a question or frustration, they're always willing to offer suggestions based on their experience. After discussion, we have clean up, snack time then music before we leave.
Once your little one is enrolled in Twos, Threes or Fours things change slightly. There are as many days as the age suggests. For instance, the twos meet twice a week, the threes three, etc. You're only required to attend one of the days and there is no longer discussion group.
Coop is much cheaper than a private preschool. However, you need to be more involved that you would be at a school where you just drop off the fruit of your loins for a few hours. As the name suggests, coop requires everyone's participation. Every parent has a job in the class, from taking home rags and towels to wash every week to attending the overall preschool building's meetings as the chair of your class. This year I'm running the Scholastic Book orders. You're also required to attend a monthly class meeting one evening a month (our class is attempting to make this fun by having after meeting drinks at the Beveridge Place Pub). And finally, you must attend one parenting class a quarter. Before you cringe, consider the classes: Compassionate Parenting, Goodbye Diapers, Sibling Rivalries, Getting Baby to Sleep. I'm telling you, these are the classes you WANT to take!
I can't say enough about the program. Not only have I gotten to witness the extreme growth Sweetness has experienced having her peers around, but I've also gained so much knowledge and and many friendships. I really don't mind the participation part. I really feel that I'm taking part in Sweetness' education and growth and I feel extremely fortunate my employer is flexible enough with me to allow it. I know I've become a better parent as a result. And if this really sound exciting to you, you know you'll be surrounded by like-minded parents as coop preschool is filled with people who are just as excited about it as you.
So there you have it. I'll put a link to these groups on my Helpful Links page. All the best.