It was such a gorgeous day today we decided to go out and play. I asked Sweetness what she wanted to do and she expressedly announced that she very much wanted to "see the big boats."
Last week we took her down to Fisherman's Terminal to see the big fishing, sail and other various boats and she thought that was the greatest thing since stealing toys from her brother to see if she can make him cry. Clearly it left and impression. And that impression had us heading back to the terminal today to avoid a meltdown.
I have to admit, I found it really relaxing. The lines gently tapping on the masts, the subtle creek of the boats straining against the buoys, the lapping of the calm waters of Salmon Bay, and the occasional cry of a sea gull as we walked in the 68 degree sun calmed me to the core. I forgot how much I loved being down by the docks. Both kids looked around in awe, with Sweetness commenting on things she saw. Mommy commented on the Deadliest Catch captain that drove by. Hubby didn't recognize him. And while I brought my camera with the intention of taking lots of neat boat shots, I ended up only getting a few because I was just too busy relaxing to care. This one is my favorite – neat lines and colors, calm water and Ballard in the background.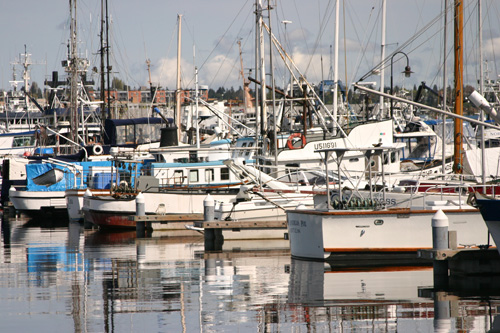 Then we went to lunch and I managed to get these two absolutely adorable photos of my blue eyed babies. They're just too darn cute for words.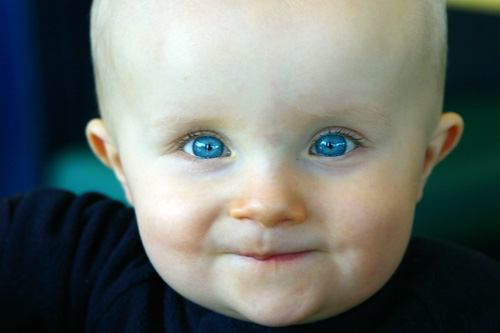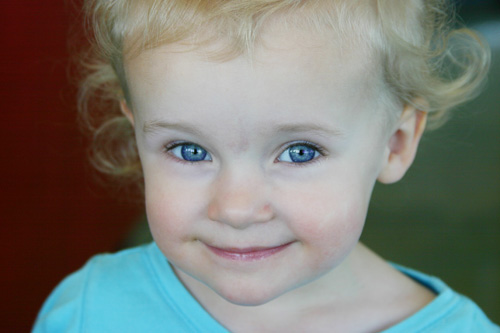 Now if I could only build up the energy to get the last minute weekend chores done before the new week starts.