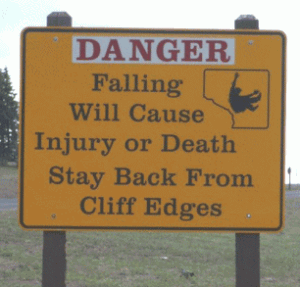 I'm standing on the edge of a cliff of decision and am scared to death to take the plunge. The big question is, do I leave the relative safety of a professional career to be a stay at home mom (SAHM)? On one hand, in this economy, it's scary to consider going to a single income and leaving the future of our family income to my hubby (where his company keeps laying people off and he never knows if he's going to be next).
On the other hand is the terrible feeling I'm having every day that I'm missing my children growing up. Granted, I'm only gone from them Monday and Tuesdays until 1 p.m. and Thursdays and Fridays until 2:30 p.m. The truth is I'm with them more often than most working moms. Sadly, that doesn't make me feel any better.
Today I took the kids to an indoor community center toddler gym and we had a blast. I also got to talk to a mom and several nannies. The mom told me it was tough to make the decision to stay home, but once she did, she's never looked back.
"You make it work financially, and in the end, I think the kids do notice when you're around all the time."
Her son was in a preschool three mornings a week and her daughter was with her all the time. Her oldest was two years older than Sweetness, but the age spread between siblings was the same as mine.
"I love not having a structured day, feeling rushed," she told me. Oh how I long for that feeling. I get so stressed on nights before I have to go to work, trying to get the morning stuff all done and set out, lunches/bags packed, stuff together for me for the next day, then get to bed at a descent hour. That's not to mention Mr. Man's wake up calls at night and my rush to get up, shower, made up, dressed, fed and out the door by 6:45 a.m. (not to mention the kids). I get to work most mornings feeling stressed, tired and disorganized.
I've also lost all passion and sense of belonging at work, for many reasons beyond just wanting to be with my kids. Sometimes I find myself hoping I'll get a pink slip so I can at least get unemployment. I'm bored, uninspired, disconnected, disengaged and frustrated. I've quite literally stopped caring. I'm just a robot there now.
When I look at the numbers, it's still hard. We can meet all regular bills, even have a little extra cash. But, while I'll save $1400 a month on childcare, we won't be saving for the kids' college, putting money in the IRAs, or even having much for a vacation. And I'll be walking away from a hefty annual 401(k) contribution (including matching).
"I look at it this way, I'll make more money. But you can't get these years back," my friend Tracy, who recently quit her job after having her second child, told me. That struck home. I really feel guilty now for worrying about the money.
Oh hell, I don't know what to do. I've spent so much of my life living from paycheck to paycheck that it's such a sense of security to have more income than we need to just break even. I love that we're saving. But I don't want to do so at the risk of my kids.
I would really love to hear your thoughts, experiences.