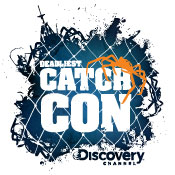 It's official, I'll be attending the Deadliest Catch's CatchCon next weekend (May 1) to cover it for our own West Seattle Blog. I'm totally psyched on a couple of levels. First, as you may remember, I've got a guilty pleasure, which is watching the show. So I'm rather caught up on the latest details and well prepared to hit the ground running
But more importantly, the journalist in me who has been dormant for a bit has been busting to be let out. Well little reporter girl, out you come and make sure to mind your manners! It would be highly inappropriate for a woman of your age and stature to sit on crabber's lap and lick his face.
I have good "˜ol Captain Sig to thank for this. I asked a few questions during his book signing earlier this month and when I finally reached the front of the line to get my book signed he looked up at me and said, "It's the lady with the hard questions. You really made me think." Kind of a nice complement given the man is bombarded with reporter questions all the time.
"Kind of comes naturally, I'm a journalist by training."
"Ahhh that explains it."
Well Mr. Hansen, you ain't seen nothing yet. Now I'm a reporter on assignment. And not only that, I'm a reporter with a Twitter account, WiFi access and a big camera.
The folks at Discovery have been very accommodating. I've got permission to arrive early to photograph the boats (I get to board the boats!!!!) and then I get to talk to the captains, before the hoards arrive. I wonder if Sig will remember me. And if he does, will he turn and run screaming or stand fast ready for the challenge?
Once the press are done with the boys, Discovery will let all 1,000 rabid fans in and the captains will do a panel discussion, followed by a whole lot of I don't know what because they're being secretive to everyone, including me. They won't even tell me what boats will be there. Though I do know you can get something signed by ONE of the captains, and one only; buy a bunch of Catch Crap (I coined that term and you have to pay me a dollar if you want to use it); tour the boats; and see some clips from the current season that haven't aired yet. They're also hinting of "unnamed crew hanging around."
Basically a Catch fan's wet dream, pun intended. Last year they had a crab sorter and fans could try to identify male from female and then pull males that were the right size, all while being timed. What have they cooked up this time? I'll soon find out and I'll tell you all about it, with pictures and video, on Twitter and through the West Seattle Blog, live.
So if you're the least bit interested, or have a deep sense of sick curiosity, and want to see the un-Discovery-distributed down and dirty, follow me on Twitter. And please be sure to click that little button down at the bottom of this post to Tweet it to your pals as you never know who's really a closet fan (but be sure to look at what you're Tweeting as sometimes that dopey button just tweets the title of my blog, and you want your followers to know this has to do with the show not cleaning baby poo off the ceiling.) They need to be following me to get the up to the minute stuff.
And for good measure, I'm also covering the public memorial for Captain Phil, which is Friday, April 30.