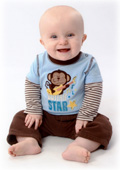 Dear Sweet Mr. Man,
A year ago today I held you in my arms for the first time and was instantly in love. Your sweet little face, deep blue eyes and soft little sighs captured my heart. Even though a nurse was there to care for you in the night so I could sleep and heal from my c-section, I still called to have you brought to me because I couldn't bear to be apart.
Your first year flew by at a speed I never could have believed possible. It seems like just yesterday you were sleeping in the cradle by the bed, waking every two hours to nurse that first week home. Our first summer together was wonderful, with both Daddy and me off from work for maternity and paternity leave, doing so many wonderful things together as a family. Wasn't that just last night?
It couldn't have been more than just this morning that you started solid food and wasn't it just after your nap this afternoon that you started to crawl? At this speed I fear by next Saturday you'll be telling me I'm stupid and trying to borrow the car.
I honestly didn't believe it was possible to love anything as fiercely as I love your big sister, but you showed me I was wrong. You melt my heart with your big grins and I am complete putty in your paws when you reach up and take my face in your hands, pulling me in for a smooch and hug.
You've made my life complete, my perfect little man. Since I was a little girl myself I've dreamed of having a girl and a boy. Your arrival fulfilled that dream. I look forward to every moment we have together, even though it feels like you'll be heading off to college a week from Thursday.
"I'll love you forever, I'll like you for always, as long as I'm living, my baby you'll be."