So little Mr. Man turned one year old this past week and we had ourselves two small parties – one on the big day (May 11) with my mom and her fiance. And another one with just a few friends and Hubby's dad last Saturday. However, it looks like Tonka, Hasbro, and a host of other toy vehicle makers hosted an all night binge drinking session then had an orgy on my living room rug. This is what they spawned: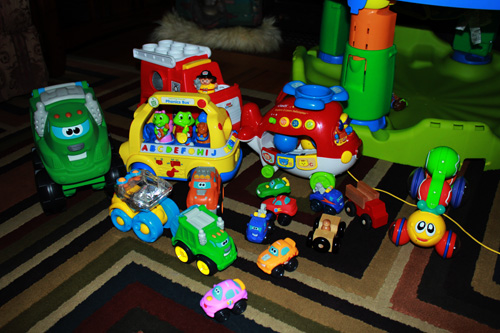 The worst part? Half of them make electronic sounds, and not just when the kids are with them. They'll make those sudden loud creepy sounds out of the blue to try to get the attention of any child in a three mile area. They succeed in creeping mommy out.
Seriously, the boy went from having one train to all this. And these are only the things with wheels on them. There were some clothes, a puzzle and a garage for some of those cars.
So I ask you, with all these cars and such, is there ANY reason at all for Sweetness and Mr. Man to have issues over sharing? Hell yeah. More than ever. Each believes ALL of these spawns are theirs. Never a dull moment.