With the little grandchildren all moving about the house we got to thinking last Christmas about something original we can get the woman that has everything – read here, my mom. When I was contacted to see if I'd be interested in writing my thoughts about Nikon's cute little point and shoot digital cameras I jumped on it. Well, not actually JUMPED on it because that would break it. You know what I mean.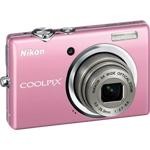 We ended up getting mom this cute little Nikon Coolpix camera and with it welcomed my technophobe mom into the 21st century. She suddenly stopped buying disposable cameras and started using this here new newfangled piece of technology. For the money, it was a great investment. Mom now packs it along with her everywhere and gets all kinds of great shots of the kids. We've even taught her how to upload the photos to the local drugstore so she can pick up the prints. I highly recommend it as a birthday, Christmas or even Grandparent gift. Heck, it would make a great backup to my big, old digital SLR if I wasn't always packing that puppy!
Now, if we could only convince mom that saving the images on her computer or on a remote server is a safe thing. She instead loads up a memory card, then saves it and buys a new one. Nikon probably likes that come to think of it. She will be buying their memory cards well into the future. 🙂
While I did receive a little compensation to write this post, I was encouraged to share my honest opinion.