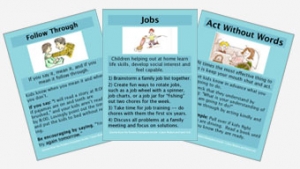 In the heat of the moment, when your child is acting out and you're at the end of your rope, how do you keep to your positive discipline parenting? Just as I'm starting to truly put these methods to work with my 2 1/2-year old, I was really excited to learn Jane Nelsen recently released her Positive Discipline Tool Cards as an iPhone/iTouch/iPad app. Talk about having answers at your fingertips. My phone is never very far, which makes this an ideal tool for dealing with issues in the heat of the moment.
The app, designed after the deck of cards you can buy on the Positive Discipline website, gives you 52 parenting tools to help you develop your positive discipline parenting skills. You can use them three different ways: work on one skill a week, choose one at random when an issue arises and use it to help come to a resolution, and, for older kids, invite your child to choose a card as you work together to solve problems.
I downloaded the app almost as soon as I heard about it (it's only $2.99) and got to work playing with it. I really like that you can choose to sort the cards alphabetically so you can find one by name, but if you want something random, just shake the iPhone/iTouch/iPad and one is revealed. That one not work? Fear not as the next one is a shake away.
These cards, as the actual cards or the app, have been really valuable in both refreshing my memory about positive discipline techniques and keeping them in front of me so I don't stray. It really is a lot of work to stay on the positive discipline path and I can use every bit of help I can find, especially in the heat of the moment. Who has time to say, "hold on there Thor, allow me to consult the great book of positive discipline for an ideal response to that outburst. Keep an eye on dinner for me, will you?" Additionally, if reading books isn't something you have the time or patience to do, these cards might be the answer.
Here's an example of how they've worked here at our humble house of insanity recently.
Card: One Word
Avoid lecturing and nagging. Use one word as a kind reminder.
1)    "Towel" – for the towel left on the floor
2)    "Dog" – when the dog has not been fed
3)    "Dishes"
4)    "Bedtime"
5)Â Â Â  When agreements are made together in advance, one word is often all that needs to be said.
When I started using this technique I was pleasantly surprised that it worked really well, even for a 2 ½-year old. Sweetness is full on into her independence and "no" phase. I can tell her to do something until I'm blue in the face and it only serves to get me all worked up and eventually cause me to lose my patience. Getting her to do the things I know she can do herself when I need her to do them can be a real struggle.
One such issue we always have is her reluctance to follow the rock solid rule that we wash hands before every meal. Just suggesting it's time to wash hands can bring on a grand maul tantrum. In addition to giving warnings, after reading this card, I'll now only ask once, "Ok, Sweetie, time to wash your hands for lunch." After that, it's simply "hands." If she still carries on and demands lunch, I'll sometimes add, in a calm but firm tone, "hands or no lunch, those are your choices, Honey." She eventually goes in, the hands do get washed and sometimes Mommy even gets to eat the meal while it's hot.
What do you think? Is this a useful parenting skill? Have you tried it? I'd really like to hear your experiences in using one or two words to avoid lecturing or nagging.
As a side note, I recently found a great blog that is following these cards. Interested? Hop on over to Single Dad Brad to see how this dad of two is using positive discipline to keep his household running smooth.