Another installment in my Positive Discipline articles.
I'm inspired by the iPhone app I recently got called Positive Discipline Cards, which helps me resolve problems by providing quick, simple positive discipline techniques at the push of a button. I've been playing with it a lot, and in many cases, putting it to work. In fact, I've found them so great I just have to share another one with you.
Card: Validate Feelings
Allow children to have their feelings so they can learn they are capable of dealing with them
Don't fix, rescue, or tray to talk children out of their feelings.
Validate their feelings: "I can see you are really (angry, upset, sad)."
Then keep your mouth shut and have faith in your children to work it through.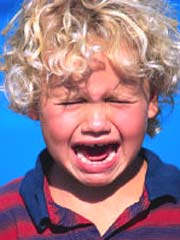 I hesitate to call Sweetness a sensitive child. Sometimes she is as solid as a rock then other times she falls apart at the smallest thing. I think she's just an emotional child. And I'm still no where near figuring out when she might fall apart and when she won't.
For instance, her brother always wants to come into her room when she goes in there. He just worships the ground she walks on and wants to be with her. I can't possibly expect her to understand that. Sometimes she's happy to have him there. Other times she can't slam the door in his face fast enough.
This morning, as she was having her diaper changed, he crawled in to see what was up. He lit up with smiles and started jabbering as he crawled up to the changing table (dresser) to see us. Sweetness just fell apart, screaming "no baby brother, no. Go out!" I'd just read this card so I decided to put it to work.
Me: "Wow, you really are upset that your brother came in to see you. You don't want him to be in your room right now."
Her: "No baby brother."
Me: "Let's finish your diaper change so you can talk to him."
She calmed down a bit as I hurried but started crying again as he started playing with her piano.
Her: "No. That's my piano!!"
Me: "You don't want him to play your piano. You're mad at him for touching it."
When I put her down she went to him right away, took his hands off the piano and told him "no" then left the room calling for him to follow. Of course, he did and as soon as he was out, she shut the door.
Other than supervise that she was not going to haul off and slap him, I didn't intervene. However, afterward I expressed my observations as a way of encouraging her behavior.
Me: "You were upset that (Mr. Man) was in your room when you didn't want him in there. You were very kind to only remove his hands from the piano without hurting him. It was very clever inviting him to follow you out and then to shut the door. You resolved that all by yourself."
She beamed and seemed to feel just a little better about her ability to resolve her own problems.