So I guess it's just best to be better late than never, eh? During the past six years I've changed jobs, moved more than 1,110 miles, moved into an apartment, bought a house and moved again, met a nice man, dated nice man, got engaged, planned a wedding, got married, got pregnant, gave birth, tripped my way through a new baby's infancy, got pregnant again, gave birth again and made it through another baby's first year.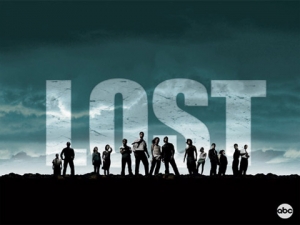 Seems there was other stuff going on out there in the world of reality and make believe at the same time. One of those things was Lost, which just ended this past month. I managed to go the entire six years by not so much as seeing a second of the show.
However, I was watching and was very much enthralled with Flash Forward. How did ABC thank me? They canceled it. (You should probably know me liking a show is the kiss of death. If you're a TV producer, better pray I don't trip across your little slice of flickering hope.) Bumming about what I was going to do no longer having a favorite fiction show to watch, I scanned stories around the show's death. Lots of people kept making the connection between my now dead show and Lost.
What did I have to lose? The show has officially ended of it's own accord, so I can't jinx it. I decided to sign back up on NetFlix and started watching the first season of the show two episodes at a time every night. Now I'm sucked in. Fascinating show. And I'm really liking the video on demand from NetFlix I can watch in the comfort of my bed with my laptop and headphones!
Back to Lost. I have to admit I liked Flash Forward much better, mainly because this airline employee who is in charge of emergency response is having a hell of a time suspending disbelief over a plane plummeting 35,000 feet to crash land with 48 people alive and most without a scratch. But once you get past that little piece of fiction, there is some real fascinating stuff going on and I'm enjoying how you get sucked into learning about the different characters.
So far, I'm about 8 or so episodes in and I have a full five more seasons to view after this one. Who knows how long I'll be sucked in, but, for now, it's something to do after the kids go down and hubby is fully satisfied. I like shows that encourage you to remember stuff, see the small details to get the big picture and, basically, use your brain.
Yes, this will do quite nicely when I just need to shut out the world and enjoy some thought provoking TV, even if the premise is laughingly fictitious.