It was my very first prom that I was invited to attend.
What can I say, I'm a late bloomer. I didn't want to miss my junior and senior proms in high school, and due to the fact that I was vastly unpopular, I had to basically ask guy friends to go so I wouldn't miss that right of passage. Not this time baby!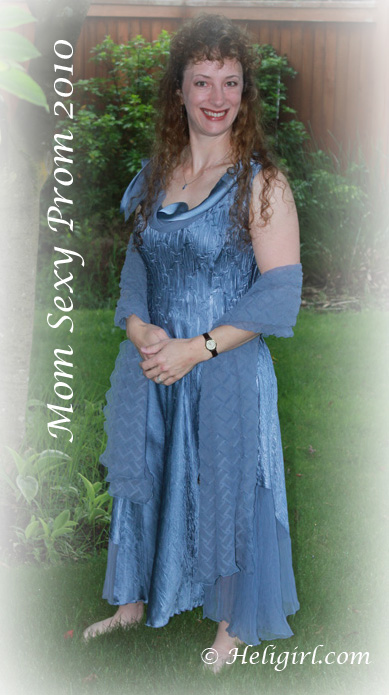 The Mommyologist invited little old me to attend the prom and my buddy Jen at The Mother Load talked me into going! And not just some pimply, cliquey, out do each other and try to have sex the first time high school prom. I'm talking the Mom Sexy prom, where we moms are celebrating our sexy together. I must say, despite some of the sags and stretch marks, I'm feeling much sexier now than I did in high school. A lot of it has to do with confidence, and mom sexy is about being confident and happy in the skin your in, so rock on sexy ladies.
When I first heard of the prom I was sort of at a loss as to what to wear. Truth be told, I haven't bought myself a sexy dress since just before my wedding when I had this sexy little number for the rehearsal party and my honeymoon. Then my mom called and asked if we could go shopping. See, mom is FINALLY getting married again, after, oh hell, I can't even remember how many miserable years and I'm in the wedding. She's found this amazing man and become a whole new woman (which helps me with my work on breaking the cycle of abuse her mother started in our family). She wanted to buy me a dress to wear on her big day.
So off we went and mom saw this gorgeous dress. I took one look at the pricetag and walked away. Mom stopped me and said she was buying so try it on. If it looks good, she'll get it. Holy crap, people, the minute I put this soft, sexy $350 piece of fabric on I could see why it cost so much. I was transformed. Dang I looked hot. Yeah Mom! Still can't thank her enough.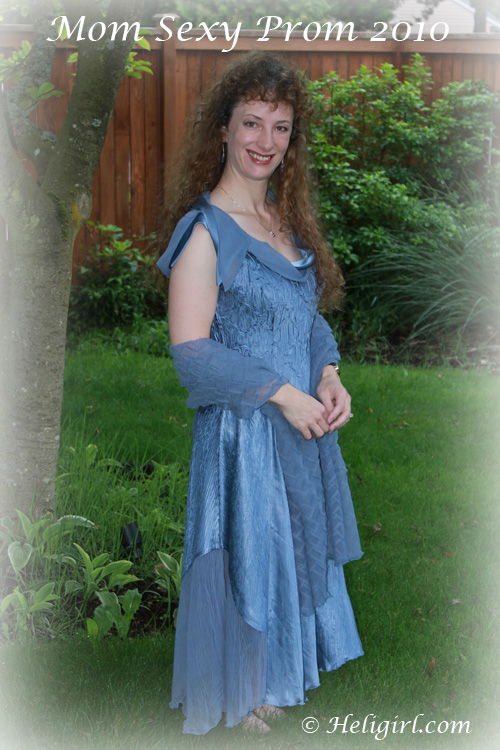 In the lovely wet, but green front yard.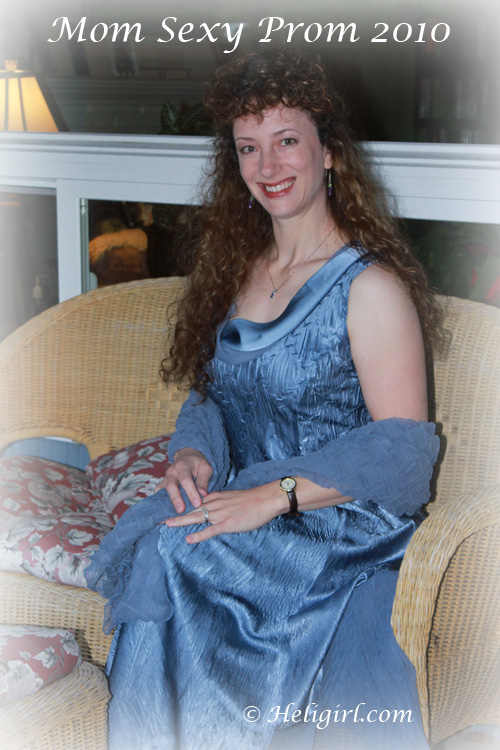 And that is me at the prom. May all the boys who didn't have the nerve to ask me to my high school prom stumble upon these photos and eat their hearts out. But in a good way. Maybe Hugh Jackman can droll over them too. I wouldn't mind.
The Mom Sexy prom was a beautiful event attended by beautiful people, every last one of us thrilled to be sexy moms. Want to see more of us? Click on over to the Mommyologist and follow the links. May it inspire you to embrace Mom Sexy, or just Woman Sexy. We're all so beautiful inside if we take the time to show it.