I think we're going to need to make a change. A huge, vast, incredible, scary change. I don't like it one bit, but I know it's for the best.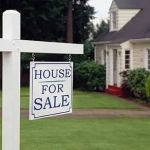 I'm talking about moving. All the practical signs are there: house is getting too small with two more growing people in it, busy street is not safe for kids, and the school district just got FAR less desirable thanks to the district's new rule that you can now only attend your designated neighborhood school (which for me means all the illegal aliens protected in Seattle who don't speak English and the residents of the seedy neighborhood east of us full of crime and gang activity now go to our schools).
That last one pushed me over the edge. Talking to my neighbor who is treasurer for the elementary school PTA, I learned that test scores are way down, classes are behind because teachers are trying to deal with difficult students and those that don't speak the language, and they're cutting music class and the school counselor who works with the difficult students due to money. It's time to leave. And with interest rates so low, we need to seriously consider our options.
But emotionally it's so very hard. I chose my house all by myself and bought it with my own money. Together hubby and I added on to it with his condo sale equity. We got pregnant in that house. We brought the kids home from the hospital to that house. It's all the kids have known. I have close friends in the neighborhood and we love the co-op preschools. The kids are enrolled in co-op here next year. I have childcare in the area that I trust. I love being 15 minutes from downtown.
I so wish there was an easy answer. We can add to the house again, but we can't fix the schools and we can't afford private school. I'm not willing to let my kids' schooling suffer. We have to move.
We're seeing larger houses in better school districts almost 45 minutes southeast of us now. The commute to work would be about 10 to 15 minutes longer. I'd have to find new childcare. I'd have to find new preschool options. Oh the WORK involved.
That's not to mention the massive undertaking of whipping our house and yard into shape to sell. We'll have to pack up lots of stuff and get a storage unit to help make the place look less cluttered, plant flowers (I've neglected that this year), put in beauty bark, and the mother of all pains in the ass – every single fricking time I walk out the door I'll have to leave the house looking perfect for potential home buyers. What a serious pain in the gozotch with little kids.
Work and emotional attachments aside, in the end I know we have to do this. We must get ourselves into a place where I feel comfortable with the kids' safety and education. Whether we decide to do it this summer, or put it off another year or so, I'll need to push the button before Sweetness enters kindergarten in 2012.
For now, we're researching neighborhoods, visiting other communities on weekends, looking at houses in neighborhoods with school districts we like, talking to friends and coworkers who live in areas we're considering, and just saving our pennies. My hope is the reality will sink in, I'll find something that feels right, and I'll be able to find the energy to say goodbye to the best chapter of my life so far – the one where I got to move home to Seattle, buy my own Seattle address, find a wonderful man, marry and have my two beautiful children.