Hello all. I'm back, officially. Yesterday's post was written before vacation, so I really did stay true to my word. I had a vacation.
This year vacation was so different. Usually vacations are filled with packing up and going somewhere, but this time we had very little in the way of plans. In fact, I made a last minute decision to head out of town for a couple of days, which ended up being perfect. Here's how we did:
Friday night we got the vacation off with dinner out at Hubby's favorite pub. Sweetness screamed a great deal during the meal. Mommy barely got her beer down.
Saturday we headed up to my mom's where I was instructed to go through all the crap I didn't think I needed to go through until Mom passed. But, alas, mom is getting married and she needs to ditch the extra baggage, including our childhood papers, Halloween costumes and toys. I remembered that I carefully packed my very favorite toys, classic Fisher Price things they don't make anymore like the parking garage and family house, as well as my Barbies. I wanted to save them for my kids. We brought a truck load of stuff home and I got to work cleaning up the Fisher Price stuff and inventorying the Barbies. Sweetness and Mr. Man spent the rest of the week that we were home playing with the Fisher Price stuff. It made my heart soar.
Sunday we did a few chores around the house and ran errands. I begged a favor from Hubby and he watched the kids while I ran off to catch Eclipse. (Awesome movie and the best yet!) Funny how before I was married I abhorred going alone to the movies, sure everyone was looking at me. Now I cherish the time alone and don't think anything of it. With old age comes wisdom. I spent the afternoon playing with my old toys with my kids and weeding the front yard. It isn't dark here until 9:30 p.m. so the kids won't see fireworks for a while. That was a hard night to sleep as our neighborhood is Little Baghdad on the 4th and New Years Eve.
Monday a pal and her kids came over for tea and a playdate. We'd met online while we were pregnant with our first kids (who ended up being born days apart). She lived in Hong Kong at the time. Just before getting pregnant with her son she moved really close to me. Her son is three months younger than mine so I pass along clothes from Mr. Man, many of which I got from a third friend of ours we met through the same group. It was a really nice morning. That afternoon I packed, shopped and prepared for…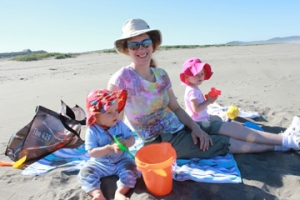 Tuesday – Thursday we went to Long Beach, Washington. I rented a house that ended up being perfect for us. It was really windy when we got there Tuesday afternoon, but Wednesday was the hottest day of the year. Blue skies, hot sand, and lots of sunscreen.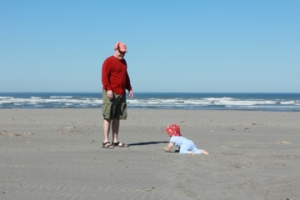 We bought a kite, flew the kite, went for walks, ate lots of ice cream, built sand castles, and thoroughly enjoyed our first family vacation. This was the first time the four of us went anywhere together other than grandparents' houses and it was awesome. We could walk to the beach and town from the house so it was perfect. We were having so much fun that we decided to head back the long way, around the Olympic Peninsula, through a formerly unknown town called Forks. No Cullens that day. The sun was out and it was 94 degrees. By the way, that town is an odd mix of redneck loggers and giggly teenagers. Taverns next door to teen shops with Robert Pattinson in the window. Talk about weird. We were running a bit late so we didn't visit La Push this time around. The kids handled the 8-hour drive home well, all things considered, and were rewarded with a ferry ride the last leg.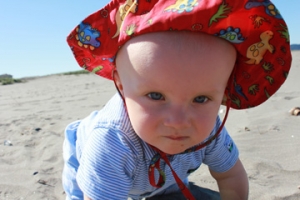 Friday the kids didn't sleep in nearly long enough to suit me, but oh well. My freelance job needed my attention the first few hours of the day, but we all went to lunch and ran a couple of errands together before coming home to play in the kiddy pool and water table in the backyard.
Saturday was chore day. We didn't want to leave it to the last day. We washed the hardwood floors, moved a little furniture around, put some kids stuff no longer used on Craig's List, and I weeded one of my backyard gardens. In between all this we played in the backyard with the kids – the pool and water table are big hits. That afternoon Hubby let me sneak off again. This time I treated myself to a manicure.
Today we plan to grocery shop and then just play. We may hit a wading pool at a local park with the kids. It's been amazingly hot here and the kids are loving the water stuff. It's a hoot to watch them splash together.
All in all, I think I pulled it off. I loved the comments people left on my vacation post about balance and in the end that's exactly what I think we were able to pull off. The house is somewhat clean, weeds are under control, clutter somewhat reduced and we have lots of great memories and photos of our first of many, many vacations together. In fact, I got adventurous and bought tickets for the family to join me in Hawaii in October when I go for a meeting. We'll stay long and make it a vacation. Now that should be interesting.