Today is a big new first here at Heligirl. I've done a blog swap with Ericka from Alabaster Cow. Hop on over to check out my brutally honest post about the guardian angel who entered my life when I was a pathetically miserable "victim" of my circumstance and taught me a simple, yet infinitely valuable lesson that changed my life – to take responsibility. It's pretty deep, I'll warn you now.
Ericka is a little more light hearted here on Heligirl for you all today. If you haven't had the opportunity to get to know Ericka yet, you're really missing out. She's raw, honest and will quite seriously cause you to pee your pants at times if you're not careful. She's an aspiring author with an artist's eye for the little details and a genius wit for sharing them in a way you'd never have expected. Any woman that throws herself into the country club pool at her own wedding is definitely walking to the beat of her own drummer. And she's hot. Please join me in welcoming Ericka.
Little Things
It's the little things now.
Taking a piss without somebody leering at me, blow drying my hair without little fingers tangling the mess. It's getting ready for lunch with a friend without having to soak up the dog's water with my shower towel or tolerating a shivering pain up my calf from stepping, barefoot first, onto a plastic toy.
What used to be a given is a luxury and I'm not going to lie, it's a pretty chalky pill to swallow. I mean there are actual days where I'm surprised no one has defecated on me and the sheer fact that my blouse (okay, fine my night shirt I wore the evening before) isn't baby poo yellow is like completing a mini-marathon. I am that proud of myself.
Gone are the days of using a cell phone without someone trying to steal it (and not to make a call mind you, simply to babble into the mouth piece while waving her hands like a lunatic. Is that what I look like on the phone?). Gone are the days of napping at my leisure without getting poked in the eye.
I miss those days every time I step into a puddle of pee after finding a diaper thrown carelessly onto the living room rug and when I reach for my keys and realize I have to dig through the toys in the play pen to retrieve them from their hiding place. But I know if those days return I'd be losing more than calf pain and tangled hair. I'd be missing her: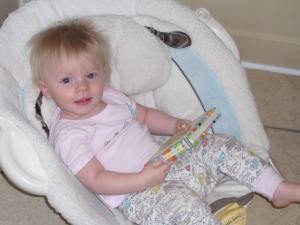 Poopy shirts and missing keys don't look so bad anymore.
___________________
Ahhh, yes, all those wonderful little things you totally took for granted before you became a parent. While I miss them, I'd never trade my life today to get them back. The hole left behind that my children fill today would be way too big. Amazing what we do to be parents, isn't it? Just for giggles, please tell us the one "little thing" you miss the most.
For me, it's coming home from work and being done. Still working part time, I come home a little worn out some days and wish I could just put my feet up, but I have to reach inside and find the energy to connect, play, cook, chat, feed, clean up, bathe and put the little creatures to bed before I can even think about sitting down. By then, I don't have the energy to get a glass of wine some days. Pathetic, I know. But so worth it.
Did you see my post on Alabaster Cow? I've started a new Confessions category and will unveil a similar post, but a lot more humorous, tomorrow. Don't forget to stop by for a giggle at what can only be too strange to be fiction.