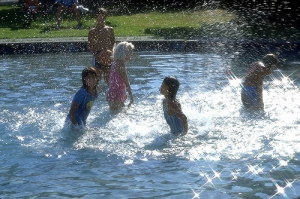 I was plugging away at work this morning when I looked up to check the date to include on a letter. When I saw July 20 staring me in the face I had a little panic attack. July 20 already? The summer is half over. I have only seven more weeks to play before the kids are back in school.
You see, I have Wednesdays off and negotiated that at the beginning of last school year. During the school year, that's when I participate in the classroom. But during the summer, that's our day to play, just the kids and me. They're just starting to get into playing with mom and I want to cherish every bit of this precious time while I can. Too soon they'll be teenagers and spend their time telling me how uncool I am and to go away.
I waited all year for this slew of Wednesdays just for us. It can't possibly be winding down yet. And at the rate time flies these days, I'm sure I'm not alone. So I pulled out my to-do list and maybe we can inspire each other to make sure to schedule at least one special thing each week before September.
Hit the wading pool. Our parks have lots of wading pools and with budget cuts, different ones are open different times and days. Sure, it takes time and organization to get to these – pack swimsuits, lotion, towels, swim diapers, regular diapers, hats, snacks, drinks, wipes, toys, yadda yadda. But the fun the kids will have makes it all worth it. I'll see if another mommy pal wants to go too.
Go Farrel-McWhirter Farm Park. It's a great park just across Lake Washington where there is a children's animal farm. It's on a small scale, and has the typical animals found at the petting zoo, but on a nice sunny day the kids would get a kick out of it. Sweetness is really into animals and farms. She'll help teach Mr. Man animal names and sounds for sure. We can take a picnic lunch too.
Go back to the beach. I found this really great beach area up in Edmonds where I can take the kids to play in the sand. Our visit was really short the first time and I'd like to take a little more time to play there. Maybe dad will come over on the ferry and join us again. I could lazy away a full morning watching the kids play in the sand.
Go to the Imagine Children's Museum in Everett. I took the kids one weekend and LOVED it. I bought a membership thinking I'd take advantage of it lots this summer. I've yet to return. It's going to be a lot of work chasing one while carrying the other, but Mr. Man is getting good at riding in the Ergo on my back and Sweetness would just explode at the idea of playing there again.
Visit Camp Long. It's one of Seattle's best kept secrets and is just up the street. It's a little piece of nature playground in the city with trails, forest, rock climbing and even a stream. I have a Jeep stroller so hitting the trails with Mr. Man taking the ride and Sweetness leading the way sounds like a lovely way to spend the day. I'll pick a really warm day were being in the trees will be mighty comfortable.
Go to the Museum of Flight. I put on a helicopter show there every June and got a membership for the kids and me. With Sweetness being totally into anything airplane or helicopter, we could spend a whole day there and she'd be in heaven. We'll plan to have lunch together in the cafe.
Take a walk in the Seattle Art Museum's Olympic Sculpture Park. I've never been and think it would be a great exercise, fun for Mr. Man to take a stroller ride and Sweetness to check out the funky art. We'll pack a snack and make a long morning out of it.
Wow, looking at that list I think it's rather lame that I haven't done more of this yet. But I've vowed we'll check them out this summer. Even if you don't live here in Seattle, I hope this has at least sparked some ideas of things to do in your own neck of the woods. What are some things you'll try to do before the summer is done, either by yourself or with kids? And if you know of something in the Seattle area, please do share!
If you'd like to expand your horizons a bit, here's a great article on things to do around Western Washington. Some extend into other seasons and there's no lack of fun stuff here.