Sweetness is two months shy of her third birthday and the potty training issue has been driving us insane. For the past eight months she's shown complete interest in sitting on the potty that lead to her using it once, then none, then interest again including the "big girl potty," then complete lack of interest again. We've been following her lead, trying not to push her, but at the same time trying to gently keep the subject current incase she decides to make the leap.
Then recently I learned that three of her male buddies her age and younger were now either only wearing diapers at night or were completely potty trained. Boys are generally supposed to take longer to potty train. I began to worry that by being so careful to not push, perhaps we hadn't provided her with the opportunities she needed to begin learning. So we decided to give a new method a try this week and see how it goes from there.
I reviewed the potty training readiness guidelines found in several books and websites. She had them all: dry diapers for more than two hours at a time, the ability to pull her pants on and off, an awareness of when she was about to and after she went in her diaper, and a willingness to sit on the potty.
I spoke to the moms of the boys who were potty trained to learn what worked for them. Each did a similar thing – removed the diaper and stayed close for several days. One recommended the three day potty training method to get started. With this weekend being really nice weather and my schedule as it is, between us and the nanny I had five days in a row to really give it a shot. We'd not be overly pushy about it. If she wasn't getting the hang of it by then, we'd just wait and try again later.
While there is an eBook on the topic you can pay for, I simply went to BabyCenter's potty training page. They have a lot of valuable information compiled from several sources, which I've found most valuable when it comes to seeing all the possibilities and making an educated decision for myself.
The basics of this program are simple: Plan to go NOWHERE for three days straight, leave your child without anything on below the waist that entire time, watch your child closely at all times to identify opportunities to use the potty, give lots of fluids, have a couple of potties available around the house, and provide encouragement.
Day 1, Saturday, July 24, 2010:
7:00 a.m. Got Sweetness up and reminded her of the discussion we had before going to bed the night before – today we're going to go all day without diapers and use the potty. She asked for her underwear. In my attempts to ease her into it and reduce early power struggles, I told her she could wear underwear, as long as she remembered she needed to use the potty. I knew this would probably not work. I was right.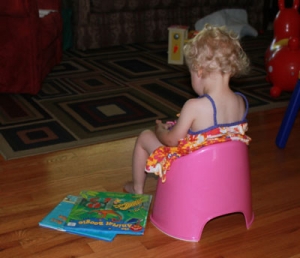 7:30 a.m. She announces "uh, oh. Look! Go potty." And starts waddling toward the kiddie potty I put in the living room, undies dripping. I tossed her undies into the wash and now she wore only a shirt. However, after about 30 minutes of her running around putting her butt on everything I couldn't take it anymore. She's a girl already. She can wear dresses. I changed her into a sun dress and nothing else.
That morning she peed in her brother's room, on her bed and in the living room. Each time we took her straight to the potty, reminded her that she needed to go in the potty, then cleaned up. Cornstarch is perfect for absorbing human (not pet) waste and odor, by the way.
I absolutely had to go grocery shopping, so I threw a diaper on her and ran to the store with her. Unfortunately for the potty training, but not for Safeway, she used the diaper. I was annoyed with myself for taking her, thinking I'd messed up our training.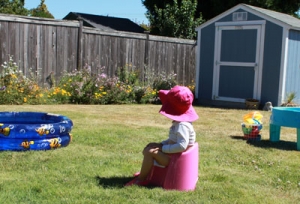 Then I lathered her up with suntan lotion and took her into our private, fenced backyard to play in the pool and with the water table wearing only her swim top (which is a full SPF 50 shirt). It was odd to put suntan lotion in her little butt, I tell you what.
The potty joined us outside and she sat on it every 15 minutes or so. Then suddenly, after playing a bit, she got up, went to the potty, sat down, looked down at herself, then announced, "look, it's pee!"
We did the potty dance, hugged then I showed her how to wipe and she got to carry the potty to the toilet, dump it out and flush.
Now, there are a lot of arguments both ways about rewards. It's actually something really frowned upon in positive discipline. However, after going back and forth, talking to other moms of potty trained kids, I decided to do it. I guess I convinced myself that using it as a part of our encouragement in the first couple of weeks could only help. Many of my pals did similar things and had no issue removing the reward once they were trained. So we decided she gets a little gummy candy each time she uses the potty. She got to pick one out.
Our excitement and success was short lived. She peed next to her chalk scribbles on the back patio about an hour later, then in the house two more times before bed. No poo to be seen – which typically takes a child much longer to do on the potty.
Yet she did have one more surprise for us before the day was out. As I was washing Mr. Man, she came into the bathroom with hubby, climbed up on the toilet step, put down the kiddy seat that is built into our toilet seat, sat down and promptly peed. We all clapped for her, Mr. Man included, and she beamed. She got to wipe, flush and pick out a candy.
Thus ended day one. We went from accidentally using the potty only once in her life to using it twice on her own accord. I'd call that progress and if this first day is any indication, it's going to be slow going. At least I can say we only used one diaper – a big step when a box is $50!
Here's some helpful reading if you're about to make the potty training leap. There is so much information out there it's easy to become overwhelmed. I found these three trusted sources to be of help. I've used a little from each to do our little three-day experiment. If it fails, I'll know Sweetness just needs more time.
Jane Nelsen's Positive Discipline Blog post on Toilet Training
Dr. Sears' Toilet Training Basics
WebMD's Potty Training Tips
Check out Day 2.