Last week I wrote our wish list of summer outings we must do before school starts after Labor Day. Summer is going so fast and it is so important to me to spend one day a week with the kids doing something fun, either as just the three of us or as a playdate with another mom and kids their age.
After our rigorous adventures in potty training this week (aka Butt Camp), I decided the troops needed a few hours of shore leave. Since the Museum of Flight is close to our house and it was cool and overcast outside, I thought this would be a great outing for us all. (And in case you're following the Butt Camp rules, I used a pull up … and so did she. Sigh.)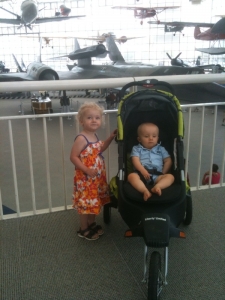 If you've never been or heard of the Museum of Flight, I highly recommend it both to locals and visitors. Talk about nirvana for aviation buffs. The museum, located right on Boeing Field, a busy regional airport, is affiliated with the Smithsonian. It has a little of everything, from a replica of Boeing's first factory, the Red Barn – complete with old tools and half built planes of that era, to a space section with rockets, rovers and a section of the space station, and everything in between. I love the gallery, a huge windowed section where lots of airplanes, and even a helicopter, are either suspended from the ceiling or sitting on the floor. The Courage Wing is filled with aircraft from various wars and outside you can tour an old Air Force One plane and a Concord. The museum just put in a bid for a Space Shuttle and is currently building the new building it will house (if they win). For the little ones, there is a great hands-on area where they can climb in airplanes, a helicopter, a hot air balloon and even hang gliders.
Sweetness loved it right away, pointing out the airplanes parked on the front lawn of the museum as well as the Boeing 787 taxiing by, just beyond the museum's grounds. Once we got in, I gave her the option of choosing which way she wanted to go. She went toward the gallery.
After wondering around looking at planes, we stepped into the fuselage of an old Boeing 737-200. She ran down the isle, chose a seat and commanded me to sit. We sat, me with Mr. Man on my lap, and she had fun pretending to do her seat belt and talking about the airplanes she saw out the window in the gallery.
Then we headed down to the kids section where she played with the airplane, helicopter and hot air balloon before sitting for all of five minutes for story time, which was taking place in there at the time.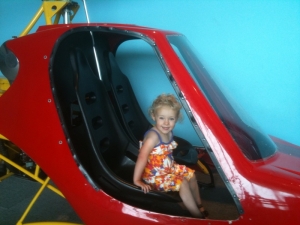 Mr. Man was restless so while Sweetness listened to the story of Goldilocks and the Three Martians (er, ok), I followed him around as he checked things out. He seemed most interested in standing by the glass emergency exit door, which looked out across the parking lot and toward the runways.
Do I have a future aviator on my hands?
After he crawled through the whole children's exhibit, twice, a gathered him up and reinserted him in the stroller before we went to explore the Red Barn.
I love the Red Barn. It's supposed to look like the original Boeing factory, which was located just down the river from where the museum stands. There is a lot of history in there on the Boeing company as well as replicas and models of the old aircraft Boeing made in the beginning. Perhaps one of my favorite aspects of this part of the museum is the sounds. It's made of solid wood so as people walk around on the main floor or above, there's this great old creaking sound. It just feels the part.
Mr. Man loved looking up and pointing at the airplanes hanging from the ceiling as Sweetness lead me through with endless "what's that mommy?" questions. I don't know if I'll ever get over her curiosity with things around her. I just love that to death and will talk her ear off about things if she asks.
In all, we spent about 90 minutes there before Sweetness started asking about lunch. Like a dufus, I'd left the diaper bag and snacks sitting on the floor by the door at home. So we headed out with Sweetness asking when we can return.
I'm really looking forward to exploring the place more with the kids. While I've been lots before, having Sweetness' new eyes and endless questions made it all new for me. She saw things I hadn't noticed before. I think we were all learning and enjoying.
To learn more about the museum, please visit their site. They even have a virtual membership for anyone in the world to tour and have access to the museum from a computer, if you can believe it!  They have much better photos on their site as well, as I, the dufus, left the camera at home, again. So we had to do with the iPhone, again.
What are you doing this summer with the kids to get out, connect and build lasting memories?