It might happen the moment you bring baby number two home. It may not rear its ugly head until that younger child starts moving under her own power. If you're really lucky, it may even start a little later. But make no mistake, siblings will fight and it will test you, possibly to the point where you want to beat your head against the wall.
It really started in my home when my son began reaching and grabbing for things. Before then, he was "baby brother," worthy of smooches and snuggles from his older sister by 20 months. She'd get worried we'd forget to bring him when we went places and insist on being the first one into his room to wish him a good morning.
She loved playing with his baby toys, and taking things from his hands with nary a complaint (though we stepped in and reminded her that when someone has something, it is theirs until they put it down).
That all changed when he decided he wanted things. She'd be playing along side him and he'd reach out and take something from her. She'd take it back and push him away, setting off a crying jag. It only got worse when he started crawling and his grip got stronger. Now he'd crawl up to her, take it and hold on tight. He's also learned to look over at mommy and daddy then let out a cry as if to say, "big sister's being mean to me!"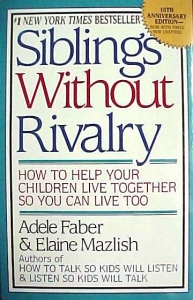 In an effort to both develop capable kids that can work out their own problems and reduce the rivalry as much as possible (read here: reduce avoidable rivalry), I started studying my little heart out. One book I've found considerably helpful is Siblings Without Rivalry, by Adele Faber and Elaine Mazlish.
The thing that this book really brought home to me was the role parents play in sibling rivalry. We can actually make it worse by how we intervene.
To give you a taste, here are three pitfalls parents or caregivers make and how to avoid them in order to limit rivalry, both in the short and long term.
1. Making comparisons. Comparing kids, even when intended to help a child feel good, is detrimental. For the one being compared to the "better" one, it is demoralizing, disrespectful and can develop the seeds of contempt toward the other sibling. For the one being held up as the gold standard, it produces a sense of isolation, pressure to perform and insecurity in the ability to live up to the expectation. Examples include, "see how your brother eats his vegetables", "why can't you keep your room clean like your sister", "if you got good grades like you brother"¦", "you're the best helper in the whole family."
Faber and Malish recommend in situations where you'd feel the urge to compare favorably to instead describe what you see or feel. For instance, instead of "I wish your sister could dress herself as well as you," try "you do so well at picking out nice clothes that match." To avoid unfavorable comparisons, describe the problem: instead of "your sister manages to be home by dinner, why can't you?" try "Dinner is at 5:30 so we had to start without you. Yours is a little cold now."
2.  Assigning Roles. Much like comparing siblings, assigning rolls can be detrimental. Our kids are all blessedly different. However, we must be careful of how we recognize these differences. "She's the organized one," "he was the difficult baby," "she's my easy going girl, nothing gets to her," "he's my little athlete," "she's the musician of the family," etc. Think of these as if you were simply comparing because in essence, you're saying the other sibling(s) is the opposite. Many a person, perhaps even you, didn't reach for or achieve a dream because you were told someone else in the family was best at it. And be aware of kids putting themselves in rolls. If they perceive a sibling as "this," then they'll be "that."
Our role as parents is to support our children's growth and development. Treat them as you want them to become, not how they seem today. First is not to put them in roles, verbally or otherwise. The other is to recognize when they're putting themselves in roles and encourage them to see the other side, "but he's the athlete." "Yes, he is an athlete, and so are you. We all are in our own ways. Here, kick the ball toward me"¦" or "I'm the meany, remember?", "I know you also know how to be nice and I expect to see you show that side."
3. Assuring equality. Siblings need not be treated equally. They need to be treated uniquely. Faber and Maslish argue that as much as children demand to be treated equally ("he has more!", "you love him better"), they really want to be treated uniquely to their own needs.
For instance, in response to the "he has more pancakes" complaint, the authors suggest looking into the child's unique needs. Rather than respond, "no, I gave you both three," they suggest, "oh, are you still hungry? Do you want half of mine?" For "you love her more," focus on what the child is really saying – "do you love me?" A response in that situation focused on the uniqueness of the child rather than being equal is far more effective: "I love you so much in so many ways. You're my only Max. No one could every take your place in my heart, my wonderful little guy."
I hope these three tips get you thinking about how you relate to your children when it comes to rivalry and start a conversation.
For me, I'm guilty of putting the kids in roles – Sweetness is the tentative one while Mr. Man is laid back. I'm working to never say that in their presence again, as well as change my own view. Sweetness has gotten a lot more brave. Children can change, and do with our guidance and support.
While these tricks typically are for older kids than mine, my view is it is never too soon for parents to learn these things and start getting into the habit of using them.
I would love to hear what tricks you've learned to help stem sibling rivalry, as well as a confession of what might not be helping. Please leave a comment offering any advice, or even links to other resources on this topic you've found most useful. I know I'd love all the help I can get.