It's been three weeks since my commitment to do something special with the kids once a week before Labor Day. On July, 20, I researched and wrote a list of the things I really wanted to do. Today we checked yet another one off the list.
This morning, as rush hour was coming to an end, we piled into the car with hats, suntan lotion, camera and snacks in preparation for Farrel-McWhirter Farm Park.
This park, located near the main campus of Microsoft in Redmond, Wash., has a unique history. The property was homesteaded in 1890 by the Charles W. Hutcheson family, who journeyed from Tennessee to Seattle, then to Redmond. At the turn of the century, the land was host to the Peterson Sawmill, one of the largest in the area. Millstones and notched stumps remain as evidence of the site's logging history. During the 1930's, the McWhirter family of Seattle purchased the property for use as a summer home. Mrs. McWhirter was an avid horsewoman who raised and trained her horses here.
In 1971, Elise Farrel-McWhirter gave the City of Redmond the 68-acre parcel of land for a park in her will.
Today the park includes a children's animal farm, a horse arena with trailer parking, covered picnic shelters with electricity and running water, multi-use trails connecting to the Puget Power/City of Redmond Trail, orienteering course, and tire swings.
We arrived around 9:30 a.m. The place was already bustling with young kids enjoying day camp. Sweetness immediately saw the barns across the field from the parking lot and lead me straight to the animals. We saw goats, chickens, rabbits, ponies, sheep, rosters, turkeys, a pig and a cow. We had to circle the main barn and outside enclosures twice as Sweetness chattered away to both me and her brother. Mr. Man was in the stroller so he could be down at her level. She took full advantage, holding onto the stroller and pointing everything out to him.
"Look Baby Brother look! That's a sheep. Sheep say "˜baaaaa-aaaa.'"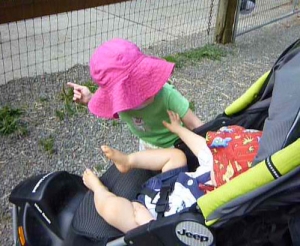 It wasn't long before Mr. Man was showing off his new skill, pointing. Sweetness didn't waste a beat. She guessed what he was pointing at and went about telling him what it was. He could have been pointing to the trees for all I know, but he learned about the pig.
True to the history of the farm, it was surrounded by old forest, untouched since at least the late 60s.
There was a paved trail, a gravel trail and several trails with well worn soft bark. Mr. Man's Jeep stroller did just fine on the latter so we went for a nature hike. The forest was old and healthy, with huge, thick trees. It was alive with life and muffled the sounds of the farm almost immediately.
We walked for quite a while. I felt so relaxed just listening to Sweetness chatter and ask "what's that?" and "what's that sound." Mr. Man seemed to enjoy what he saw as he chattered back at her and pointed a lot.
It was in the low 70s, which made a forest walk very comfortable.
After taking a nice loop trail that went over several small wooden bridges (Sweetness' favorite) and a creek, we ended up down the property a bit and back in the meadow.
We pulled up to a picnic table shaded by the edge of the forest and had our snack. While we sat there and enjoyed the surroundings, five horses sporting little girls from the pony day camp went by. Sweetness asked the question for the first time in what I know will be millions, "can I ride the horse?"
I'm not sure if she understood the part of my answer that included making lots of money and daddy selling his car.
After we ate Sweetness decided the tire swing needed to be tested in the worst way.
We played there for a bit before following the paved trail the horses took back to the barn.
There we proceeded to circle the barn again and see all the animals. The male turkey was actually free range, and he was in the barn this time around. He saw Sweetness coming and stood tall. The ugly thing was as tall as her! I had to laugh. She wasn't threatened, but she was respectful. She didn't back away. She looked it in the eye and said, "hi turkey. Gobble gobble." He must have decided she was cool, because he just wondered on by her and she let him.
As lunch time, and Mr. Man's nap time, approached we headed back to the car to head home.
I absolutely loved this park and will be back again and again. It's completely free to visit. There is so much outdoor activity to do – take hikes, learn about the animals, play in the open fields, ride bikes on the paved trails, picnic, swing on the swings or just relax and enjoy the tall trees surrounding you, or closer to the farm area, the sounds and smells of the farm. An added stress relief was the fact that I had no cell coverage there. Total uninterrupted kid time.
This connection time and the memories we made are so very, very valuable. A very big piece of positive discipline, in fact I'd go as far as to call it a foundation, is building and maintaining connections with your kids by having this regular time together. Picking a place to go that you'll all enjoy, taking your children's leads on what to do when you get there, and just taking your time without interruption goes a long way in helping prevent misbehavior.