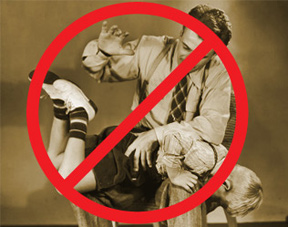 When I was growing up, the rules in our house were pretty similar to those in most households of the 70s and 80s: do something the parents don't approve of, get punished.
My brother and I were spanked with hands and wooden spoons. (In fact, I remember they even had a paddle in grade school they didn't hesitate to use on kids.) We've been grounded (my mother called it "on restriction") and we've been put to hard labor. All in the name of punishing us for something we did.
I grew up living in fear of my mother (I still have issues with females in authority), unsure of myself and if my actions would result in negative effects, living in constant fear of letting people down, and basically not feeling the least bit confident in my actions or ability to make the right decision. I also lied a lot and was sneaky to avoid punishment.
I knew I didn't want to punish my own children, giving them a similar future, but had no idea what alternatives were available. After studying Dr. Adler's research as well as positive discipline/positive parenting, I've become adamantly against corporal punishment in the home.
The truth is punishment is a very lazy way to discipline children. I say lazy, because so many of us were raised with punishment that it's just easier to do it than learn a new way that will definitely take more work. Punishment is attractive to a lot of parents. It gives the parent release of anger and frustration, makes them feel they're doing something in response to the bad behavior (sense of control) that they falsely believe works.
Sadly, punishment doesn't work. Any parent that has punished the same child repeatedly for the same misbehavior should have an inkling of this. Punishment hurts, makes the children feel bad and uses fear as a motivator. In the end, children are not learning to behave better. It ultimately engenders disrespect, anger, lower self esteem, fear and rebellion. Punishment teaches children how to lie and not get caught, as well as erodes their sense of self worth.
Think about it. To paraphrase the Positive Discipline expert Jane Nelsen, who thought that the way to get a child to behave well is to make them feel worse?
The alternative to punishment is taking the time, patience and energy to treat every misbehavior as a learning opportunity. It also requires parents to understand why children misbehave. The root answer to why children misbehave is children need to feel significance and power. If you provide these things throughout the day, you can help reduce the amount of misbehavior.
When a child does misbehave, the pressure is on you as the parent to calm yourself and deal with the situation positively. This takes practice and work on your part, but consider the result of the alternative – a sneaky rebellious child or a child with very low self esteem.
Positive discipline does not mean children get away with misbehavior. It means the parent takes the time to teach and involve the child in taking control of his or her behavior. It involves being kind but firm. It requires you to discipline with respect and love (as opposed to fear and anger used with punishment). You involve the child. You choose logical consequences to implement when rules are broken.
I firmly believe when you eliminate corporal punishment from your home, choose to show respect for your children, take the time to understand and address the reasons behind misbehavior, and dedicate yourself to learning and implementing positive parenting techniques designed to empower and encourage your child, you'll find yourself wondering why you ever thought corporal punishment was a good idea.