I remember the first time I saw a play.
I was a little girl, about 8 years old, and my mom suddenly started taking me to these plays aimed at adults in the posh Fifth Avenue Theater in downtown Seattle.
A two hour drive from our mountain home on the North Cascades Highway, the theater attracts the cream of the crop. I can't remember the first play we saw, but I can recall Annie, Little Johnny Jones, Fiddler on the Roof and a few others.
I had a hard time sitting through those plays. They were mostly over my head, and it was a long time to sit still toward the back of a theater so far from the action, after a two hour drive from home. But my parents had recently gotten divorced and it was my mom's way of trying to have girl time (as well as a partner for the plays she wanted to see).
As a result, I've not turned into much of a theater buff by any sense of the imagination. Many times I feel I'm forcing myself to enjoy plays. I think it all stems back to having to sit through those plays that were way over my head when I was young for fear of incurring the wrath of mom (massive guilt trip) for suggesting I didn't want to go.
I want my kids to experience and decide for themselves what, if any, arts they want to enjoy. Taking from my experience, I know that if they're to experience theater and develop their own honest opinion, they have to see things that are appropriate to their age.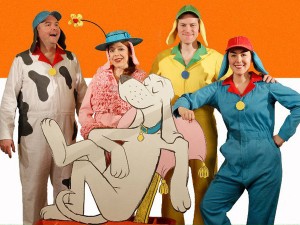 That's where the Seattle Children's Theatre in Seattle comes in. This incredible venue, located in Seattle Center downtown (home of the Space Needle and several other theaters), only produces plays for kids. Right now, they're running Go, Dog. Go!, an adaptation of the beloved P. D. Eastman book I grew up reading and have been reading to the kids since they were born.
A group of parents and kids from Sweetness' preschool attended a showing a few weeks back and all moms reported their 3 year olds sat through the whole thing, intermission and all. They were engaged and loved it.
So with a pal, her daughter and husband, I bought tickets to take Sweetness to our first play.
It was far less pomp and circumstance than my first play. There was no fussing over having to wear an uncomfortable, itchy dress and shoes that hurt. It only took 20 minutes to get to the theater from home, so there was no time for boredom to set in. And everything about the theater was aimed at the kids.
From the moment we sat down, Sweetness was captivated. The open seating bench seats were comfortable and the stage was close to the audience. It was cozy and allowed the kids to feel connected.
Before it even started, one of the actors began playing off the usher, pretending to be an obnoxious theatergoer as the usher reminded everyone of the rules – no photography, turn off your phone, no food. The kids were rolling before the lights went down.
With simple costumes, incredible music and a great deal of imagination (which to me felt like a supreme encouragement to the kids to use their imagination), the cast brought the beloved dogs to life and kept both kids and adults rolling. As an added treat, when the dogs played baseball, the audience got in on the action.
At intermission we headed into the lobby to have snack. Sweetness had been talking before the show about the dog party in the tree (the end of the book) and started right up again. I overheard several other kids asking if there would be a dog party. They were definitely engaged and excited about the show.
The second act started up with the dogs at rest (or supposed to be at rest), and their antics in bed (typical kids on a sleepover hopped up on chocolate comes to mind) left Sweetness and I laughing so hard I was in tears.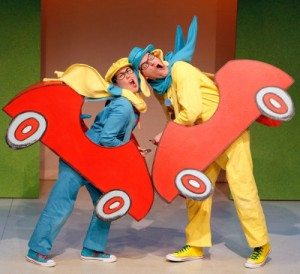 In the end, when the dogs drove around the stage in their cars (a huge favorite of the kids), the MC, himself a black and white dog, asked where the dogs were going. Kids in the audience could hardly contain themselves, yelling "DOG PARTY!!"
And a party it was.
They actors kept the kids engaged to the very end, even coming out after the final bow to take a few questions and sign programs for those who wanted to approach the stage.
I am so pleased we have this incredible program here in Seattle. I wish I'd had the opportunity to be engaged like this during my youth. Perhaps I'd have gained a better appreciation for theater. I'm looking forward to sharing many more plays from Seattle Children's Theatre with the kids. Not only will they learn about the arts, but also the valuable etiquette skill so many lack today – being quiet during a live performance (or one where others are in the room – like a movie).
The run has been extended through March 20 (even though their website isn't mentioning it right now, if you go to buy a ticket, it does say it on that page). If you're in Seattle and have a child who loved the book, this is an absolute must see!