I had this dream a while back, and by a while back I mean something like 12 years ago.
In it I'm walking along a precipice, about four feet wide or so. The land drops off into the fog a few feet below me on either side. The dirt path is well worn and I'm following a group of people. I have no idea who these people are, but I have a deep sense I know them and trust them, like they're coworkers or high school classmates. I don't sense I deep connection with them like they're close friends of family.
Then it suddenly dawns on me that maybe we're all going the wrong way. I call out to the people in front of me, "You guys, we're doing it wrong." No one listens. They walk on.
I stop and turn to my left, looking down into the fog. It is then I hear a voice from down below. It's male and the very sound of it calms me.
"You're right, you're supposed to jump."
"But what if I get hurt. I don't know what's down there."
"You'll be fine. The hardest part is deciding to jump."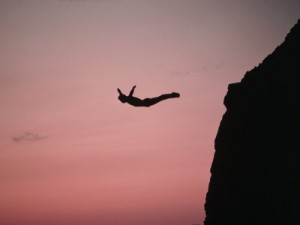 So, with my heart racing, I took the plunge. I landed on my feet on soft ground. I couldn't see anything, I was in the fog, but now my adrenaline was rushing and I was excited. I yelled up to anyone that might still be up on the precipice, about 15 feet or so above me.
"You guys. We're supposed to jump. It's fine!"
When no one answered I crouched down, pushed off and felt the air racing past me as I leapt again.
Then I woke up.
Ever since I had this dream I'm always watching the path I'm on to see if I'm in fact following the lemmings or taking the road less traveled.
Deciding to become a helicopter pilot, choosing helicopter jobs over secure office day jobs, starting my own company, and, in essence, following my heart are all leaps of faith. Thing is, each one has lead me to where I am today, on my feet where the ground is soft.
And crouching to take that next jump.