You've got to love Seattle. It's beautiful, clean and green. Yet, you have to realize, those of you from warmer and dryer climates, it's clean and green because there is liquid coming from the sky on a regular basis. It rains a lot in Seattle.
Now, honestly, I do get kind of tired of this weather. We're late-May and still it's raining and cold.
But our people are no less creative for it.
Take the weather reports for example. The forecast for this past week was rain. But they've make it look like it will be different each day. In fact we have no less than 7 words for rain around these drippy parts.
I submit for your consideration:
rain
showers
sprinkle
mist
drizzle
fog
downpour
You can make that even more creative by adding one of these words:
chance
partial
light
few
scattered
heavy
So you have: scattered showers, chance of rain, light drizzle, etc.
To be more honest, they should also add:
Never ending
Holy crap, even more
Big surprise
For the love of all that is holy
Thus, "big surprise, more light sprinkles turning into heavy rain for the love of all that is holy."
But instead, the local news station just prints the following.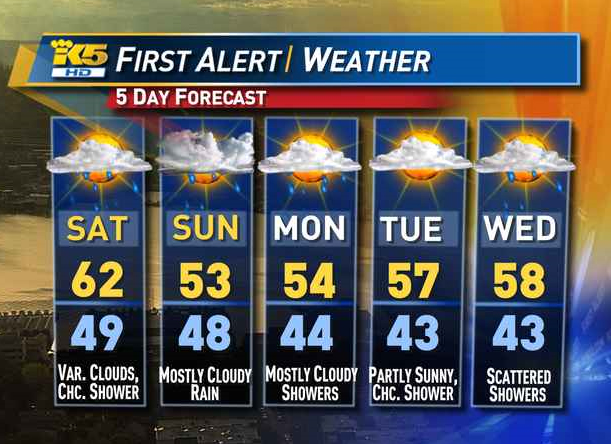 Maybe there just wasn't room for my suggested verbiage.