Riddle me this.
I have in my possession a brotherhood of sorts. A handful of eclectic items that share a unique experience involving a certain machine.
So, what do a puzzle piece, Lego horse, letter block, plastic onion, Mr. The King, a flight attendant from an airplane/airport toys set and the Transformer Bumblebee have in common?
Answer: They are all members of the Sacred Order of the Whirlpool.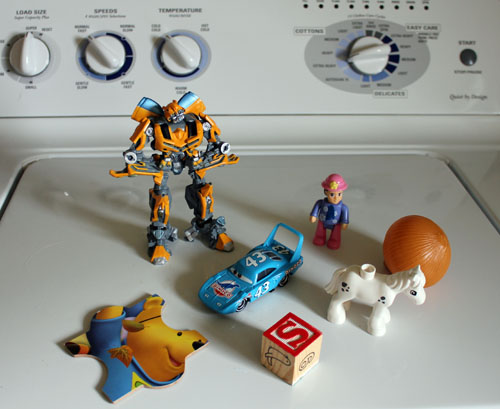 They have in some way or another (most likely the "another" option that includes little hands) found themselves in the laundry basket and a frazzled Mommy tossed the contents into the washer with little attention paid to what was in the machine, most likely because of the screaming/hitting/yelling/crying going on in the background.
The stowaways were then discovered upon being transferred to the dryer.
My real question is how Bumblebee got there. You see, that's MY toy. He stands guard with his leader on my computer desk. Most likely the little creatures that inhabit my home saw his bright yellow body and were attracted to him like flies to the zapper.
But, imagine an alternate scenario:
Nighttime. Soft snores heard from all rooms. Dog is twitching and barking in his sleep. Suddenly a small cry is heard from the depths of the canvas laundry basket in the female child's room.
Flight Attendant: Help! Somebody, please, HELP! We're trapped.
In the dining room, perched on a computer desk, Bumblebee turns toward the sound. A damsel in distress. He must move out, and fast. He jumps off the table and races toward the child's room. With full bravery and no question of self preservation he scales the dresser next to the laundry bin and sees the source of the noise.
Deep inside the bin a small female toy, her Lego horse, and a block are trapped. Bumblebee jumps in, landing on a pair of ripe socks.
Flight Attendant: My hero!
It is then that Bumblebee realizes that he in fact has no way to scale the walls. So as the brave soldier he is, he suffers the same fate as his damsel in distress, her trusty steed, and their pet block.
The good news is, they're all no worse for wear and they're quite clean.