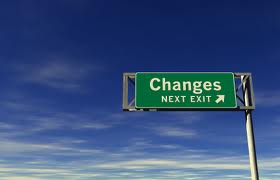 I realized something rather disturbing this past couple of weeks.
I don't do well with change anymore. Change is hard. Even when my changes don't hold a candle to what others or the world faces.
Worse, I don't like what this new issue means to me.
I've had a difficult time admitting this. I've alluded to it several times, but never quite came out and said it.
When I was young and resilient, I embraced change, celebrated the coming of a new adventure, looked forward to job changes, reveled in the opportunity to design a new routine, and pondered the immense new positive experiences coming.
I moved a lot as a kid and young adult and took on a number of different jobs as the journalism then the helicopter industry moved me around. Each new opportunity was a chance to take on a new adventure, follow a new dream and create new possibilities.
So what does it say of me when change now makes me depressed, nervous, completely uncomfortable and altogether miserable, not to mention feeling terrible selfish?
I think for me it means I'm getting old and set in my ways.
I hate that.
But change remains the only constant and it leaves me with two choices: embrace my new mindset, or push through and find the adventure in the new again.
So what has me all atwitter this time?
I took on a new part-time job this month to supplement my PR business. It's 20 hours a week (which I do in three shorter days) and includes PR, social media, publicity, writing, working with media and all the things I rock at doing. I work with some incredible people for an institution that is doing some great things for the community.
So, when you read that you're thinking, what's the deal then?
Here's the deal:
The job is 25 miles away (40 minutes there in the AM, 1 hour back in the afternoon as opposed to the 20 minute commute that spoiled me for seven years). My current childcare place doesn't have openings for the days the kids would need to attend and I had to back out of the coop preschool I so enjoyed because of the days I need to work. I enrolled the kids in the childcare center/preschool at my new job (a great place and situation, but still change). My doctor I've had for seven years, who was there for me for my pregnancies, isn't covered by the new insurance so I have to start all over again with a new doctor (I so LOVED my old doctor).
That's a lot of personal, emotional change in a short period of time. We've had to create a whole new routine at home to get the kids ready and out the door with me at 6:45 am. The kids have a whole new stressful situation getting used to a new place where they're now separated due to their age difference (hardest on my little man, so it stresses me out too).
I turn 40 next week. That's when they start mammograms. And I have to do it with a whole new doctor. I'm hoping I find someone great.
Then there's the stupid little thing about my office. I used to have this great office with a window that looked out over the Cascade Mountains and a lake before I was laid off in January. Now I have a tiny cubicle in a room where the only window looks into the hall. That's taking some getting used to. But it's only three days a week, and I'm really being stupid.
And that, my friends, is what my brain does with change these days. I guess the difference is I was so very excited about the changes in my past, moving, new job, exciting adventures, etc. This time, I didn't want the adventure of leaving my last job when it happened, I miss my old coworkers something fierce, and this new job doesn't have me on fire like aviation always did.
So it seems I'm being taught a lesson in how to push through those uncomfortable feelings of change and see the positive potential. There really are some great people at my new employer. The kids are in great hands, right across the parking lot if I ever need to see them, and I'm a big fish in a small pond. There are some great marketing and PR things I can do there.
And I feel tremendously guilty for even having these feelings. There are people out there that are losing homes, hardly have enough to eat, lost family in tragedies and a host of other really awful things. How dare I feel this down about getting a job? My self flagellation only helps make me feel worse. (In fact, I almost didn't post this for fear of looking so freaking selfish, but this fear of change and difficulty in getting comfortable with it is very real to me.)
Change is hard. But getting through it, and modeling doing just that with a can-do attitude for my kids, will only make us all stronger.
Have you had a change in your life that you felt ashamed of being down about given how insignificant it feels compared to others around you or events in the world?