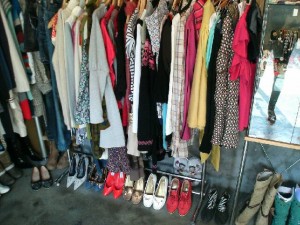 So there I was, reading Oprah magazine, when I came across a story that mentioned makeovers.
Now, before you get any funny ideas that I'm some kind of poof-girl, let me say that I'm not talking about one of those sessions at the department store cosmetics counter where they try to sell you a ton of crap after making you up like a Tijuana whore.
I'm talking about making over parts of your life or look.
This caught my attention because I'd recently made a big change, taking on a new part time job to supplement my growing PR business. It's a public relations and social media position so lots of opportunities to be talking to people, including on camera.
I'm also about to slam head-on into that big mid-life milestone, the old 4-0.
So I wondered if perhaps some kind of makeover was in order in honor of this new chapter.
Curled up in bed with my dogs (because Hubby was curled up on the living room couch watching Sports Center, which I'm incidentally violently allergic to), I started to wonder what I might look like with a pixie haircut or whole new Fergie-esque wardrobe.
Then I remembered my part time job doesn't pay that much and I'm not married to that smoking hot Josh Duhamel (Fergie's hubby) so perhaps something a little less drastic and more budget friendly might be just what I needed.
The article went on to mention stylist services. I began to wonder what kind of cash this required and if perhaps spending a few hundred on a personal stylist would help me find better fitting and better looking outfits.
You see, I'm a female anomaly. I hate to shop. Hate, hate, hate it. I have no fashion sense and rarely find things that fit.
It's even worse now that I have kids. Those rare size 4 pants that I didn't need to hem (thanks to my 5'1″ frame) don't fit anymore thanks to my wider post-childbearing hips. I have to go for size 6, which are at least 10 inches too long. So I have to tack on $15 for alterations every time I buy pants, not to mention taking them somewhere, then picking them up when they're done.
Try doing that with kids.
I typically get so frustrated I'll buy what is "good enough" and end up hating it or it not fitting right.
So I got out my trusty iPad, an early 40th birthday present from hubby, and did some searching. Turned out there was a stylist here in town, and they had a reasonable package for about $400.
It was really hard to go to that first meeting. I felt so self conscious. I dressed up in work clothes to go to their office.
My stylist, Sherri, was very friendly. She'd worked in retail for years and started as a personal stylist about a year ago. She didn't look or dress like a fashion model. She looked stylish, but comfortable. Just my style.
We talked about my issues (can't find things that fit well that I can afford) and what I wanted (some great new pieces and some style advice and tips). She had me look at a bunch of cut out photos from fashion and celebrity gossip magazines she'd pasted in a book.
"Tell me which one you like best and which one you like the least on each page," she said.
Some were really easy. Some were harder.
By the time I got through her book she was smiling. She said she had a pretty good idea about what I liked and didn't like.
A week later Sherri came to my house and looked in my closet to get an idea of what I had. I had to point out my favorite things, the things I loved but were worn out, things I loved but didn't have anything to wear with, and things I got but really don't like much at all. I was embarrassed that I still had a couple of shirts from high school.
She gave me some great tips such as hand washing certain fabrics to preserve them longer and washing new jeans with a little vinegar to set the dye, which keeps them from fading.
I told her about  my shopping frustrations again.
"You know what? That's no longer your problem. It's mine. Leave it all to me now," she smiled.
About two weeks later I headed to the mall and met her at a major department store. She'd been shopping for me. She had clothes from several stores all set up in a dressing room and I spent an hour trying things on. I was under no obligation to buy anything. Sherri wasn't making a commission on my purchases.
She gave me advice on how certain cuts and lengths flatter my shape and where to look for them. She gave me suggestions on accessories. And she had the inside track on saving money.
Did you know Nordstrom has a huge sale the last Tuesday of every month or that Macy's has a sale every Wednesday because it's their slowest day?
I left with some absolutely gorgeous things I'd not have thought to try on. I spent about $350 on new clothes and every last thing was on sale. Many of the new things go with other items in my closet too, making my wardrobe more versatile.
When we ended our session, Sherri offered to come over with some shoes she'd ordered for me online that hadn't come in yet. The budget session only covered three meetings, but she didn't mind. She wanted me to see these cute shoes.
So in the end, I feel like I'm hitting the big 4-0 and my new job looking stylish and not a day over 35. I think it really was worth the money to learn the tips, advice and suggestions, all of which she wrote down and sent to me so I didn't forget.
And I didn't need to get a pixie cut.