My heart is breaking. My best friend of 13 years is dying and the only thing I can do is let go.
I remember the first time I saw him. He was just a little furry handful with a whole lot of smooch. He loved to give kisses, and he did, all the time. Up until a couple of weeks ago, that is. His nickname soon became, "Jack the Licker."
Jack was my companion, best friend, confidant, shoulder to cry on, support, and travel buddy. He was there when there was no one but him – no husband, boyfriend, or roommates. When I bought my first house, it was for him and me. The house and yard had to be Chihuahua friendly. When I went on vacation, he went too. The trip had to be conducive to my pooch's needs.
We've flown on planes together and driven all over the Southwest, camping in the desert. Jack has been to Zion, Bryce, Capitol Reef, Canyonlands (both sections), Arches, Grand Canyon, Yellowstone, Olympic, Yosemite, and Sequoia national parks. He's walked in Valley of the Gods and looked out over Monument Valley. He's barked at buffalo, mountain goats, antelope, and coyotes.  He's gotten his feet wet in Oak Creek in Sedona and sniffed at a Saguaro cactus. He's been sailing and kayaking, even barked at sea lions and dolphins. He's been on literally thousands of miles of road trips in his own little dog seat (a raised bed with a harness so he's safe in an accident).
He's lived in California, Nevada and Washington, moving with me several times before we found our current home in 2004. It was just him and me until we got his "brother" Daggett in 2004.
He's nursed me through a hip replacement and countless broken hearts (over boys, dreams, job rejections, you name it). In the pit of the worst time of my life, when I found it hard to keep negative thoughts away, I learned that the mind could actually only hold one thought. If I had my happy thought handy and brought it to mind every time my mind wanted to wander to the negative, I'd feel better. My happy thought was of how my Jack greeted me when I came home every day – reckless abandon of puppy love and pleasure (not to mention lots of kisses). It was images of his puppy face that kept me from that pit of pain.
He saw me reach my dreams: work as a helicopter pilot, buy a home, get married and have a family.
He was there to see me meet my husband, and was the first thing I introduced my babies to when I brought them home from the hospital.
The books, breeders, and websites all said a Chihuahua has a long life span – mid to late teens easy. I feel so cheated. At 13 years and 8 months my faithful companion, the creature I didn't think it was possible to love anything more than, was diagnosed with congestive heart failure. I always feared cancer would be the force to take him. I never expected his big, loving heart to be the culprit, and so soon. One of his little heart valves is in terrible shape, letting blood flow back into the veins in his lungs and as such, cause his lungs to fill with fluid.
He's on medication to keep the water off and help reduce fluid buildup, but that will only work for so long.
Then two weeks after his diagnosis, he had what the vet (and human doctors with human cases of CHF) call "an episode." Suddenly with no warning he started breathing really hard. Within a few hours he could barely breathe. We rushed to the vet and he spent 24 hours on oxygen and was pumped full of diuretics. About 30 hours (and $1,100) later he came home, but a little worse for wear.
Now he's in puppy hospice, snuggling with me every minute. It is only a matter of time before he becomes too uncomfortable to snuggle. Then I'll be forced to say good bye, saving him from further discomfort and bringing to a close one of the most valuable friendships of my life.
Jack is not "just a dog." He's my best friend. I've always said I'd do anything for him. I'm now being called to do just that. It's killing me and I know a part of me will go with him.
I feel so very fortunate to have had my Jack in my life. He was my rock and my soft spot. You really haven't experienced love until you're loved by a child, but before there were any children, I had my Jack. His unconditional, completely trusting love got me through the worst point of my life. And I got to share what I know has been the very best (having my family) with him. I did everything in my power to make his life the best it could be. He always had love, the best food, pampering, friendship, companionship and attention.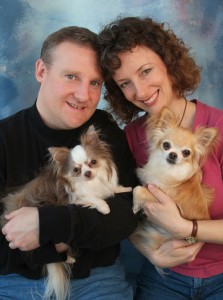 I don't know what awaits Jack on the other side. He has more soul than some humans. To think there is no Heaven for my pooch feels so wrong. I'd really like to believe there's a place where he can run, play, sleep in the sun, chase squirrels and not miss me or his dog brother.
I imagine a day in the distant future where I'll come walking toward his new home and he'll come running up to greet me. He'll cover my face with his puppy kisses and I'll bury my face in his soft fur and tell him again how very much I love him.
When it is my turn, I'll have a lot to reflect back on in life, and I know he'll be one of the things that will be on my mind and will bring me peace when I draw my last breath, because I'll know I'm about to hold him again.
What counts is not necessarily the size of the dog in the fight, it's the size of the fight in the dog. – General Dwight D. Eisenhower