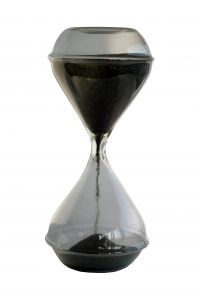 Time is a concept that I'm convinced children won't learn until they're out of high school. Now part of me thinks this is just because we're not genetically wired to watch the clock. Our Native Americans told time by the seasons, migrations and weather patterns. We, however, in today's world, have to teach our kids about time in much smaller segments, like hours and five-minute-warnings.
That's not to say it adds up to a hill of beans some days. Like yesterday.
We had a vet appointment at 8 a.m. All I needed to do was get the dog and the kids (as it's still illegal to leave preschoolers home alone) to the vet by 8. I planned to be out the door by 7:30 as I've not been to this vet before (another story).
5:30 a.m.: Quietly get up and sneak down the hall, hoping to get a little work done on the computer before the craziness begins. Open front door to let out dog. Turn around and come face to face (well, face to stomach actually) with 2 year old. Crap.
5:35 a.m.: While getting 2 year old dressed, 4 year old comes out and wants to fight about why she has to be dressed before breakfast.
5:55 a.m.: Both kids are up and dressed.
6:05: Husband gets up and comes out and helps get kids in front of their breakfast.
6:06 a.m.: Inform kids we need to have breakfast, brush teeth and get our shoes on before Sesame Street because we have to take the dog to the vet (aka "Dog Doctor").
6:07 – 6:35 a.m.: Explain several times that the dog is not dying (the last visit to the vet was to take my sweet puppy of 13 ½ years' body to be cremated).  Answer no less than 345 "why" questions while trying to make my breakfast, feed the dogs, get things together for our morning.
6:45 a.m.: Feeling fairly accomplished as I sit down to breakfast myself. Kids are dressed, ate breakfast, brushed their teeth, brushed hair and are in front of the TV with a simple order "put on your shoes please." Work on computer while eating.
7:00 a.m.: Remind Sweetness to put on her shoes and socks. I go in to get dressed myself.
7:15 a.m.: 15 minute warning. "Sweetness, please put on your shoes." Answer another 35 questions about why they have to get ready and where we are going.
7:20 a.m.: 10 minute warning. Why are those shoes still not on? Clean up dog poo by the door where puppy had an accident.
7:25 a.m.:  "In five minutes I turn off the TV. For the love of all that is holy, put on your shoes, please! And while you're at it, time to get jackets on. Anyone have to go to the bathroom?" (Bathroom answered with "no" followed by "where are we going?" and "I want a yogurt.")
7:26: a.m.: Provide yogurts.
7:30 a.m.:  "Time's up. Please turn off the TV. Get your coats on." I've loaded the car with dogs, diaper bag, etc. and left the doors open for the kids to climb in. "I want another yogurt!"
7:35 a.m.: Â Sweetness announces she has to go to the bathroom. Takes a good five minutes to do it while I get Mr. Man's coat on and take him to the garage to get in the car.
7:40 a.m.: Sweetness is done, finally has her coat on and heads out to the car. Mr. Man, already strapped into the car, announces he needs a diaper change. Seriously!?!? The smell is overwhelming.
7:45 a.m.:  Now 15 minutes late, get into the car with clean boy. "Where are we going?" "Why?" "But why?" "I'm hungry!"
Incidentally we were late, even with 2.5 hours to prepare.
The moral of my story is, you can warn them, you can plan, you can do everything for them short of spitting the food down their throats, but in the end, they'll decide when they'll want to be on time.