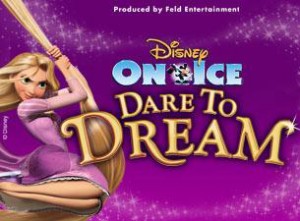 This past weekend I took Sweetness to Disney on Ice: Dare to Dream. What hooked me in me was her current complete and total obsession with everything Rapunzel. She recites the movie based off the instrumental soundtrack for goodness sake. Obsession isn't a strong enough word. When I saw this Disney event included a Tangled section, I knew this was the mommy and daughter date for us.
We were incredibly lucky with our seats. We were only three rows up, right in front of the action. And unlike our last Disney on Ice show where I learned the rules as I went, I made sure to bring along her princess dress. One of 2500 princesses in attendance, Sweetness could hardly sit still in her polyester sparkly purple dress and matching crown. The only thing missing was a little Pascal. Thus rectified by the dude walking up and down the aisles selling his wares.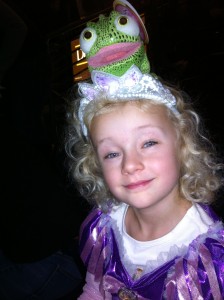 The show started with a shortened but no less stunning version of Princess and the Frog. Since Sweetness hadn't seen this one, I whispered the details as they were happening and she seemed to follow along. The next story was the timeless Cinderella complete with everyone pitching in to sing Bibbity Bobbity Boo. While she liked these, Sweetness about jumped out of her skin waiting for the final story.
After Cinderella the Tangled story was far and beyond the best. Flynn Ryder and Rapunzel did some of the best and most beautiful skating of the show, at times wrapping their arms into Rapunzel's "hair" hanging from the rafters and flew through the air. I'm such a sap, I got all teary-eyed at how amazing it was. But I really lost it when I saw they chose a little girl from the audience to help Flynn and Rapunzel send off the first lantern. She got to hug her heroes!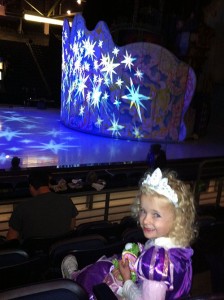 In the end all the Disney princesses and princes attended Rapunzel and Flynn's grand finale party, and the kids just went crazy in the stadium as each of their favorites made an appearance. Sweetness was particularly thrilled with herself for recognizing Ariel. (All the princes and princesses were dressed in white, not their typical costumes.)
While the price of tickets can sometimes be rather dear for these events, I can't recommend them enough if you have a little one who loves these stories. Not only did I get to spend a couple of hours of special time with my little girl that she loved, but she also was exposed to live performances and a beautiful sport – ice skating. She wants to know when we're going again.