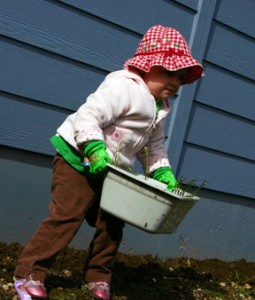 When we empower our children, they develop the skills they need to have power over their own lives.
In the short term empowerment plants the seeds for developing an "I can do it" attitude. In the long term, empowerment helps children become capable and develop high self esteem in their teen and adult lives.
Teaching life skills empowers your kids and helps them develop that priceless internal dialogue "Yes, I can!"
Taking the opportunity to model and teach valuable skills that will help your child learn to deal with disappointment, share, empathize, collaborate, problem solve and the like will give children the valuable tools they'll need to be successful in daily life. Even very little ones who witness you modeling these behaviors have the ability to begin developing the foundation for these skills. Here are some ways you can do this:
Increase self awareness by verbalizing and helping your child understand feelings. Ask questions such as "how did that make you feel?", "what do you think you should try to do?", "what do you want to be able to do?" For little ones, you can help give names to feelings by giving a running commentary, "it hurt your feelings when he took the toy," "that made you feel so proud when you put on your shirt all by yourself," "it's so frustrating trying to learn how to put on shoes."
Focus on solutions together. For older kids with good verbal skills, ask questions to encourage them to explore their own solutions to problems. Then encourage them to choose a solution and follow through. Offer support along the way. For little ones, gently coaching with suggestions sets the groundwork, "perhaps he'll give you the toy if you offer him another one?"
Have faith in your children. Simply telling them you have faith they'll resolve the problem, learn the new skill, reach their goal, etc. goes a very, very long way. Just having parents' faith in them empowers kids to keep trying.
Let go. It's so much easier to jump in and do things for kids. Avoid the temptation to do this. It's not worth the time savings when a parent jumps in and solves the problem for the child. In these instances, kids are learning they can't do it, or can't do it well enough to please parents, and therefore aren't good enough. The bed they made might look bad, the clothes may not match, you might be 10 minutes late waiting for those shoes to go on, but the end result is your child did it himself, and that's priceless.
For more information on using Positive Discipline empowering kids, I highly recommend Jane Nelsen's Positive Discipline books. I've listed those I use here in my resources section. I also highly recommend Nelsen's iPhone app Positive Discipline Cards, which I used to inspire this post.