Mom's wedding went really well last Saturday. I got there on time with all the items we needed for the kids to wear, I remembered my own clothes, and I even remembered my line, for the most part.
We'd arranged to have our nanny join us and I'm so glad we did. She was amazing at keeping the kids occupied as we enjoyed the wedding, and it freed me up to dote on mom in preparation for the big event.
It also gave me a little time to get creative. While mom was out having her photos taken, her three sisters, the nanny, my brother's fiancee and I were all hanging out with the kids in the church nursery (which was conveniently the bride's dressing room). I tell you what, having the nursery be the dressing room was a BLESSING. The kids played and played as we chatted and snacked. Then Mr. Man could snooze in the nursery crib during the ceremony and reception. It worked like a charm. And that nursery was set up like a preschool with everything you could imagine and it was all practically brand new. The kids were in heaven. But I digress.
While mom was having photos taken, I sat down at one of the tables and noticed mom's purse. Upon opening it I made a comment about all the condoms. After everyone laughed at my obvious joke, some of us suddenly got a twinkle in our eye. A quick look at the clock confirmed we had time if we had an accomplice. Not two seconds later my brother walks in the door.
"Sweetie, do you have a condom?" his fiancee asks. You can imagine my brother's look as he glanced at us all.
"Can't you wait? I mean, of course not. Not until we're married!" he smirked as he gave us a suspicious and clearly guilty look.
A moment later the photographer called my brother, daughter and I out for photos. When we were done we learned our uncles (husbands of two of mom's sisters) had gone down the street in search of condoms. The jokes were flying about how no one selling these men in their 60s condoms was going to believe they needed them. We about peed when they came back empty handed. They admitted they were clearly out of practice.
My brother jumped on his new phone and found a convenience store a block away on Google maps. He was gone 10 minutes and returned with a box of three. The uncles were further teased and the condoms were placed in mom's purse. Mission accomplished.
Sweetness kept us guessing about her plans right up until showtime. She'd at first been very excited, then not the least bit interested in her very important roll as flower girl during the rehearsal. But the morning of the wedding as she was getting dressed she announced, "walk slowly down the isle in front of Mommy." Excellent.
You see, she was to follow the groom and his two kids down the isle. She was to walk alone, followed several paces behind by my mom with my brother and I on each of her arms. Sweetness practiced again before the ceremony at her own request, with Daddy in the front pew, where he'd be during the ceremony.
Then when it came time, she was a pro. In fact, I had to hold my mom back because mom was moving too fast and we were catching up. Sweetness did a wonderful job. She walked slowly right up to the front pew where she sat down with Daddy. My only regret is there was no photography in the church so I have no photos of her performing her first flower girl duties.
Once the ceremony started though, Sweetness felt her goodness had run out and she started telling Daddy in a loud voice to sit down. Then she started demanding she be with Mommy. She topped it off with a nice loud screaming fit that echoed throughout the church as she was hastily carried out by Daddy. Good times.
Here, for your viewing pleasure are a couple of shots. I've spared you the shot of the condoms in mom's purse, which she found just before the ceremony when she went to her purse to dig out her groom's ring to give to my brother to carry. She had fun opening her purse and sharing the contents with the wedding guests at the reception. All these ladies in their 60s thought it was a riot.
I almost peed myself silly it at the end of the night when mom's sister approached mom all serious, took her hand and asked if she had any questions or concerns. It was her big wedding night and it was completely natural to be nervous.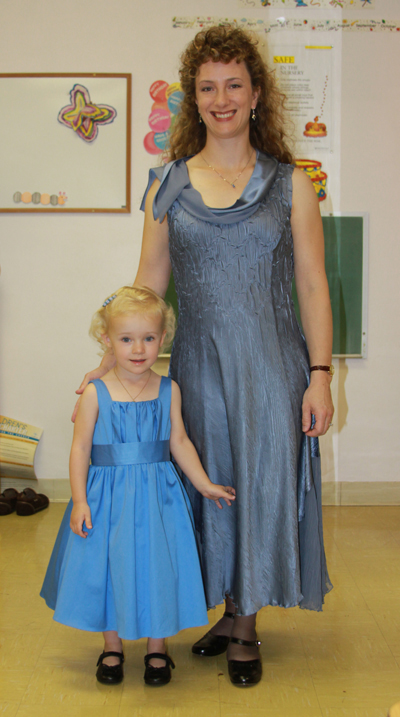 Mommy and Sweetness, dressed to impress.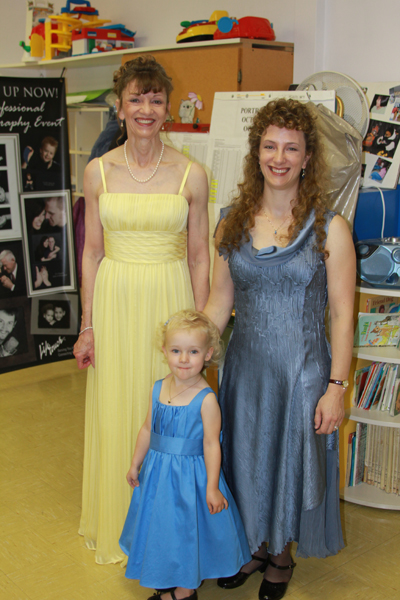 The three ladies looking mighty fine. Mom's dress was gorgeous and just flowed when she walked. Yellow is her favorite color and the groom only knew the dress wasn't white. Her hair, makeup and dress were all a surprise to him.
It was a lovely wedding and a good time was had by all. Despite the screaming.
Thanks to those of you who left such sweet, kind comments Saturday. They really meant a lot to me. 🙂