We finally took the kids on a plane together. And took a "vacation." This week I learned firsthand that we cannot under any circumstances use the word "vacation" the way we used to now that we have children. Because, for mommy and daddy, it was everything but a vacation.
Here's the skinny. I had a 3-day business meeting on Maui (Hawaiian Islands). I hate going away from the family for long periods of time to places far from them. Especially when those places are gorgeous and I see lots of kids enjoying themselves, which makes me miss my family even more.
So as my Hawaiian meeting got closer, I talked Hubby into coming with the kids. We were under no illusion it was going to be a relaxing vacation. But at least it would be a little less expensive than a full-on vacation since my plane ticket, my meals and most nights in our hotel were covered. The kids, however, were more expensive than I first expected.
My original plan was to have Mr. Man be a lap child. Hubby convinced me I was a complete moron for having that thought. A six hour flight required the boy to have his own seat. So we got him a seat. Hubby gets points for that.
I'd also not planned to rent a car, but did in the end so Hubby could get out and about while I was in meetings 2.5 days of the trip. That ended up being worth it because we could run to the grocery store and get such things as milk, diapers, etc. without paying twice as much as at the resort. Despite the absolute nightmare of a car rental place we used. Stay tuned for that little story.
Since our trip was chock full of family vacation adventure, I'm going to share the highlights for you all this week in a series of posts that will leave you wondering whether our family will take a vacation together again. Ever. Enjoy.
Day 1: I'm Leaving on a Jet Plane
I was up at the unholy hour or 3:30 am on Monday because I'm insane. I wanted to get my shower in, finish my packing, have the kids' breakfasts ready and the pets all seen to before I needed to wake the kids. We had no idea what kind of reception they'd give us at that hour or how much trouble they'd be so we opted for giving ourselves lots of time.
The kids did surprisingly well with the 4 a.m. wake up call. Sweetness was excited about the plane ride and was cooperative with eating, getting dressed and even brushing her teeth. We were in fact out the door by 4:45 a.m. if you can believe it.
I dropped Hubby, the kids, three bags to check, two car seats (one on which had a GoGo Kidz roller strapped to it so we could wheel it), two backpacks, a stroller and Sweetness's roller backpack at the airport. Hubby grabbed one of those $4 carts and loaded up while I took the car to the parking lot and caught a shuttle back.
Imagine Hubby pushing the cart and stroller with Mr. Man in it to the ticket counter with Sweetness pulling her backpack as she followed.
By the time I arrived the three checked bags were checked and the gang was ready to brave security.
As a side note, I have a real hateful relationship with TSA. Hate, hate, hate. To the point where they know my phone number when I call. Several "customer service" people know me by name. I have a hip replacement and thus have to go through a wanding and "pat down" every single time. And I work for an airline, so I'm fully badged and background checked. Nevermind that. I'm clearly out to blow up planes with my hip replacement. Hate, hate, hate. There is a complete lack of consistency in their methods for people with these conditions. SeaTac in Seattle is great. Those guys have it together. They don't feel the need to feel up my breasts and touch my crotch. Phoenix, San Francisco and Maui, not so great. They'll rub the wand on you hard enough to make your underwire and pants zipper go off so they can feel you all over. I'm just fully disgusted that in order for the general public with metal in their bodies to fly, they must have their genitals touched by a complete stranger (or worse, they now have scanner machines so they can look at your genitals instead). Hate, hate, hate.
I digress. We actually made it through security with no issues (and no genital grabbing). They even let us keep the cart so Hubby could manage everything. SeaTac TSA have it together.
We ended up through security something like two hours before the flight, Monday morning. We got some snacks and hung out watching planes until it was time to board. As a matter of coincidence, mom and her new husband were off for their honeymoon at the same time so we got to have a coffee with them for a bit too, which everyone loved.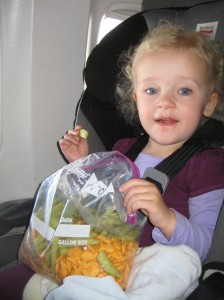 Early boarding is a double edged sword. Yes, you get to get on early and get settled. Good. But the kids are now on the plane 45 minutes before it even takes off. Not so good.
We managed to get the car seats in the plane seats, all junk stored and the kids strapped in their seats with some snacks in about 15 minutes.
Then our good fortune ran out.
Not long after takeoff they kids began to fuss and squirm. They'd eaten and drank as we took off so it wasn't ear pain. It was boredom. We watched parts of at least four Disney films on my laptop, games on the iPod, played with brand new toys produced for the first time once the plane was in flight, ate a lot, switched back and forth between Mommy and Daddy, ran up and down the plane and still managed to scream and cry a good portion of the flight. Mr. Man slept 15 minutes. Only 15-freaking-minutes. Sweetness didn't sleep at all.
When we arrived in Maui almost 6 hours later, we were ready for Mai Tais. In fact, I wanted a double. But we still had to wait until everyone was off the plane so we could fight with the car seats and get them and all the rest of our crap off, haul everything 3.6 miles to baggage claim (our plane came in at about the furthest gate from baggage claim), then wait for our baggage.
Somehow, our baggage was the last off (probably because it was the first on) and one was missing. We waited and waited, the kids fussing because they were hot, tired and hungry. I was also still in jeans and was dripping in the humidity. What could be taking so freaking long to unload our bags? Hubby decided as a last ditch effort to go to the other baggage turnstile to check and sure enough, there it was, with all the luggage from some other flight from another airline coming from another city. Classic.
But it wasn't over yet. We'd yet to endure the HELL that is Thrify Car Rental. This company is the spawn of Satan's butt and, as such, is a story for tomorrow"¦