I've been recapping our adventures in Hawaii last month in a few posts the last couple of weeks. If you want the full dirty story that would make Indiana Jones blush, check out the plane flight from hell, Satan's car rental agency, our volcanic eruption and our beach bee adventures. Caught up? Ok. Read on…
When we last left our heroes, they were soaking away the day in the hot tub.
Day 5 started with my third and last day of meetings. I took the family to breakfast then headed off to my meeting. I have to say, while it's really hard to sit in meetings when your in Hawaii of all places, I really do enjoy the folks in the helicopter industry and get rather passionate about the issues. The time really flies by.
Hubby and the kids spent some of the day preparing for the flight home. They hit the grocery store for snacks to take on the plane and even cleaned the car seat and car, removing all signs of Sweetness's puke. They hit the pool one last time, but the kids spent it crying while Hubby developed a memorable red burn on his back that clearly outlined how far onto his back he could reach himself with the suntan lotion. Poor guy.
After my meeting I headed to the room to help the gang pack all non-essential items before I headed out on a special errand. (Hubby was a saint to let me head out again that evening for a few hours.)
My Mama Bird, the man who taught me to fly, works on Maui as a tour pilot now. He invited me to head over to the airport and join him in a familiarization flight to Hana with a female helicopter pilot friend of mine he'd just hired.
I took the road to Hana when I was 16 with my family. I remember it was long, twisty and boring for a teenager. My brother had a much worse experience, puking his brains out (a habit it seems for those who share my genes). I must say, the helicopter is a much better way to get to Hana.
You can really see how thick the jungle is from this vantage point. It was almost impossible to tell there was a road unless we were right on top of it.
Forty minutes later, as opposed to the three-hour drive, we arrived. Kate and I jumped out to pose at the Hana airport for prosperity. Nick's girlfriend was kind enough to came along to play photographer.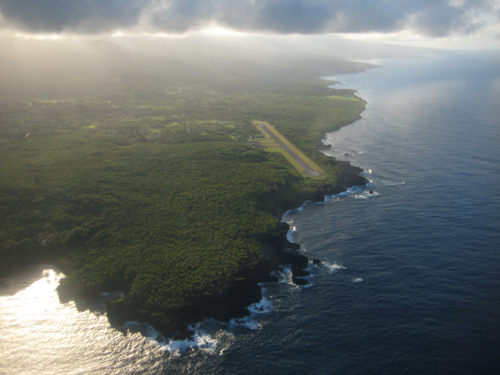 After takeoff we turned to head back toward town and were treated to this breathtaking view of the Hana Airport. You really get a sense of how isolated this community is in a sea of thick jungle.
As we headed back to Kahului we passed Haleakala. Kind of back lit, but might majestic none the less.
It was a gorgeous and relaxing end to a busy week. I got home in enough time to help Hubby finish packing, get the kids washed and put to bed. The 4 a.m. wake up call would come mighty quick. But not as quick as the Sweetness wake up call "Mommmmmyyyyyyyy."