I've not been much up to writing lately, as you can probably imagine from last week's post. Been working my way through the 5 stages of grief a few times. A day.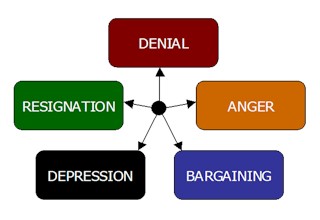 I was handed a big old "exit packet"  from HR when I was told last week that I'd be laid off at the end of the year. In it were several articles printed from our employee assistance agency. One was a breakdown of the stages of grief. I have found that handout rather fascinating as I see myself experiencing them all.
First you go through all the stages. Then you do it all over again. Sometimes you can go through the cycle several times on one day. Talk about fun. And the things my mind has done to keep my mind occupied are just as terrifying at times.
First, before the stages start, there's shock. I handled that by taking control of what I could. I gave notice to all my childcare folks since I had almost 30 days notice myself. I let my freelance customers know I was available for more work. And I put the word out for swap options with other moms so I could continue to attend co-op preschool with each of my kids. When I slowed down from that frenzy, the stages hit like a runaway train:
1. Denial: This can't be happening. It must me a mistake. I just can't believe it. For me, this lasted about 30 seconds, then I dove right into stage 2. No use dwelling on the denial. I was in that long enough when I first heard the changes were coming to our company three months ago and no one could confirm if my job would be safe. No denying it now and I had the exit packet to prove it.
2. Anger: How could they do this to me? After all the years and work I did, this is what I get? Why can't they find me work at the sister company? I'm more skilled and experienced than others not losing their jobs. They're destroying my company. They're getting rid of me because I question too many things, I'm a trouble maker. What? I have to teach someone else to do my job before I leave?!? Never has my PR mantra "if it feels good, don't say it" been more valid. Fume, fume, cuss, growl, snarl, drink, pass out. Repeat.
3. Bargaining: I chose to skip this part after the news. You don't get anything good out of it and you only lose self respect. I did a lot of bargaining when I thought our department was going to go away. I offered to work less hours, work from home, change jobs, do different work, etc. Actually, I feel rather ridiculous for bothering to bargain. The people I talked to were just as at risk as me (my VP today announced his retirement). They had no real say in the end. At this point, I realize it's rather stupid to request to stay on the sinking ship than to take the spot on the life boat being offered (as a former VP in our company put it to me this past week).
4. Depression: I've been depressed for a while as I've watched the company be ripped apart. It stems from having no control at all. I have bad dreams and trouble sleeping, but that started months ago. Since getting the news I've had nightmares of being stuck working without my favorite people at my company. Surely that's a part of the depression. I have trouble completing simple tasks, my mind wonders, and I can go from feeling great to crying at a moment's notice. Then I wonder why I care. If they don't care enough about me to keep me employed, why should I care enough about them to be depressed about leaving. Then I go back to stage 2. In fact, I seem to just vacillate between stage 2 and 4 most of the time.
5. Resignation: I've accepted that the job is gone. I've also accepted that what I'm really sad about is that I'm leaving the secure sensation of a regular paycheck, my routine and my buddies. But I have lots of offers for freelance work coming my way. I'm not sure how I'll have time to do it all now that I'm home with the kids. I'll develop a new routine on my terms the way I want. I won't be on call 24/7, tied to my cell phone. I won't be stressed out by the line our sister company keeps crossing to push my team around. And, my buddies haven't gone anywhere. The ones I love best are already gone from my old office and I see and talk to them outside the office now. In fact, I'm going to see them more, thank you very much.
I think the hard part for me is letting go. A former boss used to tell me I was the junk yard dog. I really don't like that old boss, but I have to admit he was rather accurate in his assessment. I am wicked passionate about things and I was very passionate about my company. Still am. I need time to let that sense of duty to protect it to pass away. Before I had kids, I was the job. But my priorities changed after having kids and they're my life now. I'm not defined by the company name on my business card. My first job is mom. And no one can give me an exit packet for that.
In the meantime, between being angry (really having a hard time with the fact that I have to teach someone else to do my job) and depressed, I'm working hard to focus forward.
Snap out of it!, I tell myself. I get to be home with my kids. I get to choose what work I do. I'm my own boss now. We're financially stable. I don't need to work. And my daycare just offered me a deal to bring the kids one day a week that I can afford. I'll get one day to myself to work, play, visit pals, or veg out in front of the TV in my underwear.
And I'll never be asked to teach anyone else how to do that.