This past weekend we decided to take the kids camping for the first time. Camping with kids turned out to be a life lesson in managing expectations. My own to be exact.
I have great memories of camping, sleeping in a tent, making s'mores, playing in the lake, taking hikes, sitting around the campfire, and just enjoying being outdoors.
What possessed me to think I could relive this with a 2 and 3 year old is beyond me. Note to self: have head examined.
However, several of my friends with kids the same age talked about having great camping experiences. Just make sure the kids know what to expect, they said.
So I bought the tent and put it up in the backyard. The kids were learning about camping in daycare, so we kept the discussion going at home. We put sleeping bags in the tent, pretended to go to sleep, talked about taking a hike, talked about camp fires and otherwise got the kids really excited about camping.
I went online and found a state park in Eastern Washington with all the trimmings: a lake with sandy beaches for digging in the sand, tent camping with huge grassy areas to play, a playground for the kids, easy hikes and little traffic.
What I failed to do was lower my own expectations.
On the way over my brand new 3G iPad 2 I was using to check mail and act as a GPS started rebooting over and over, effectively becoming useless.
When we pulled up to the site, sprinklers were going around our site and nowhere else in the campground. Everything was soaked. And there was a hornet's nest under the picnic table.
We'd stopped twice on the four hour drive, once for the kids' favorite restaurant (Taco del Mar, a fresh Mex place where they love the burritos) and again an hour away from the park where we hit the grocery store to stock up and a local playground so the kids could burn off steam for an hour. Despite this, Mr. Man refused to nap on the final leg so he was over tired and in a mood when we arrived.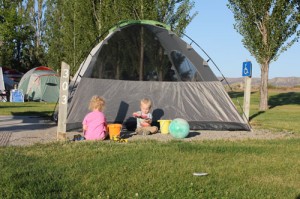 The kids played in the corner of the gravel pad where we set up the tent while we made camp and proceeded to throw the gravel and dirt at each other, on themselves and on the tent, effectively making everything a mess. I know, age appropriate behavior. I should have expected that. Instead it frustrated me.
They cried they were hungry, but didn't eat much when we did make it, instead opting to drop it all in the dirt because the gap in the picnic table was wide between the seat and the table.
The path to the playground was no less than a mile or more in 90 degree sun. Hubby didn't figure the path would meander all over the place and not just follow the shoreline, so it ended up being quite the hike. While I went into town to get hornet killer and a ball (we'd forgotten one for the kids to play with and they saw others' balls and began to pitch fits because they wanted one), Hubby walked the kids to the playground then called and asked if I'd pick him up and drive them back to the camp. When I arrived all three had several mosquito bites and the kids were hot, sweaty and miserable again.
When we got back we took out the hornets, played ball for all of five minutes before the kids were bored, I made dinner (after which the kids threw most of it on the ground), and we started the process of getting the kids ready for bed.
That's when the mosquitoes came out. In droves. We were being eaten alive and the repellant we applied and had hanging up wasn't working. The kids were getting increasingly annoyed with me slapping them (hitting mosquitoes). We threw everyone in the car and went back to town for industrial strength repellant.
When we got back I got everyone changed and into bed (one child on either side of our bed on camping pads). That's when I noticed our inflatable mattress was lopsided. One of the inner seems had broken so the air moved to the one side and it stuck up more. Great.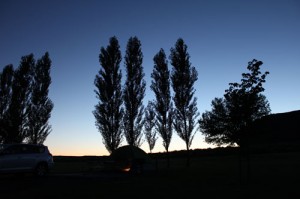 The kids then proceeded to fight, cry, jump on our bed, giggle, fall, cry and fight until 10 when they finally passed out. We of course were in the tent too because the screaming and crying was bothering the entire campground and we were doing our best to control it.
Not 30 minutes after they were finally quiet a truck started slowly driving through the campground with yellow lights flashing and a loud compressor pump and sprayer running to spray for mosquitoes. He drove up and down every road in the place, by every tent and camper. Then stopped. Then started up 15 minutes later, then stopped. This went on for an hour.
The kids woke several times in the night and cried out.
At 5:30, as the sky began to get light, the kids sat up and announced "Hi Mommy and Daddy!" and about five minutes later Sweetness announced she had to go potty.
I'd slept about 5 hours. Hubby had it worse because he was on the uneven side of the bed.
As I made breakfast and watch Sweetness spill her milk all over her I turned to Hubby completely defeated.
"Let's just bag it and go home. I can't imagine another day and night of this."
He agreed.
We packed everything up as the kids dumped gravel and dirt on themselves and everything else, crying when one would touch or throw dirt at the other. We went out to breakfast and drove home.
At least on the way home they were quiet and Mr. Man napped. And a call to Apple lead to an appointment at the Apple Store to fix my iPad (which ended up being completely screwed so they replaced it, for free!)
The moral of my story is while I put a lot of energy into preparing the kids for what to expect, I'd completely failed to lower my own expectations. Granted, while we shouldn't have to expect hornet nests, malfunctioning sprinklers and midnight mosquito spraying patrols feet from our tents, I've camped enough to know you have to expect the unexpected. If I'd done better at that, we might not have felt so defeated so quickly, instead been in a better place to laugh it off. Instead, we were tired and looking forward to a little RnR, which you just don't get camping with kids this age.
So as you enjoy the rest of summer, and your children's childhoods, never forget to keep your own expectations in check.