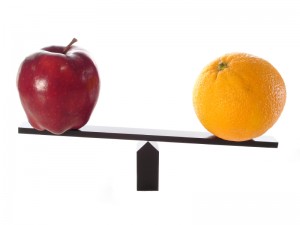 Few things are more destructive than the power of comparing yourself to others.
This I know.
I don't know if it is my competitive nature or an inherent sense that I'm not good enough, but I invariably see myself falling victim time and again to comparing myself to others.
Also, I am rather nondiscriminatory in my ability to wield this mighty power.
I can just as easily compare my little rambler on a busy street to a gorgeous new custom home with a stunning view of a dear friend as I can compare my unemployment after 18 years in an industry to a successful shop owner seven years younger than me.
In fact, I'm so good at this specific skill that I can take a perfectly great day and make myself feel like a complete and total loser with no hope of climbing out of my pathetically dreary pit of despair.
And I can do it in under an hour.
Not pretty.
I don't think it is jealousy so much. Though there are times I'm jealous of specific things, like that sexy new sports car a former coworker purchased.
I think it is more a sense of feeling inadequate, below par, less than average, etc.
What is it about or society, and about our makeup in general, that drives us to compare ourselves to others? What convention actually states that one person, or their lot in life, is any better than another's?
Truth is, it's really all in the attitude.
That's the hardest part for me to wrap my competitive/insecure brain around on many days.
So, instead, I fill in the blanks.
Exhibit A:
I may have a little rambler, but our stuff fits, each kid has a room, and we can afford our mortgage on one income. Who am I to think another's home is better? Are they up every night worried about the economy and what would happen if one of them should lose a job?
Exhibit B:
I should be happy for the successful shop owner. A woman made her dream come true. How much of her time and life goes into that place? Does she see as much of her kids as I see of mine? Working weddings and other events takes you away on weekends and evenings. That's not my thing. Why would I feel inferior to it?
In the end, filling in the blanks really is a cop out. Chances are the other family makes a butt load more than me and they sleep just fine, thank you very much. And that shop owner may be so successful that she has employees who handle the after hours work and she's happily home when the kids step off the bus.
My energy would be better served focusing on my attitude.
If I spend my days noticing what others have that I don't, I will continue to see lack in my life.
However, if I spend my days feeling blessed for all I have, I will see abundance.
Isn't the peace of mind of feeling I have all I need much better than the feeling of lack?
I think so.
It all sounds so obvious, so easy, doesn't it?
This is my battle.