If you're like me, you have several Google accounts to separate your personal life, business and even blogging. But the frustration has always been you have to log out of one account to log into another one because it appeared Google doesn't allow multiple accounts to be open in the same browser. So you couldn't be in our personal YouTube account, your blogging e-mail and your business Google+ all at the same time.
Well, as it turns out, you can. Google lets you override that default, they just make sure you know you're now your own quality assurance manager who will assure you're not posting or otherwise using one account thinking you're in another.
This is how you set up your accounts to allow for multiple account access:
1. Log into one of your accounts and go to: https://www.google.com/accounts/MultipleSessions
2. Next to "Multiple Sign-In" click "Edit."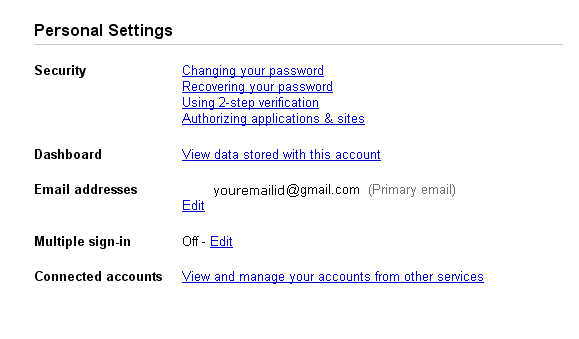 3. On the next page, click the "On" radio button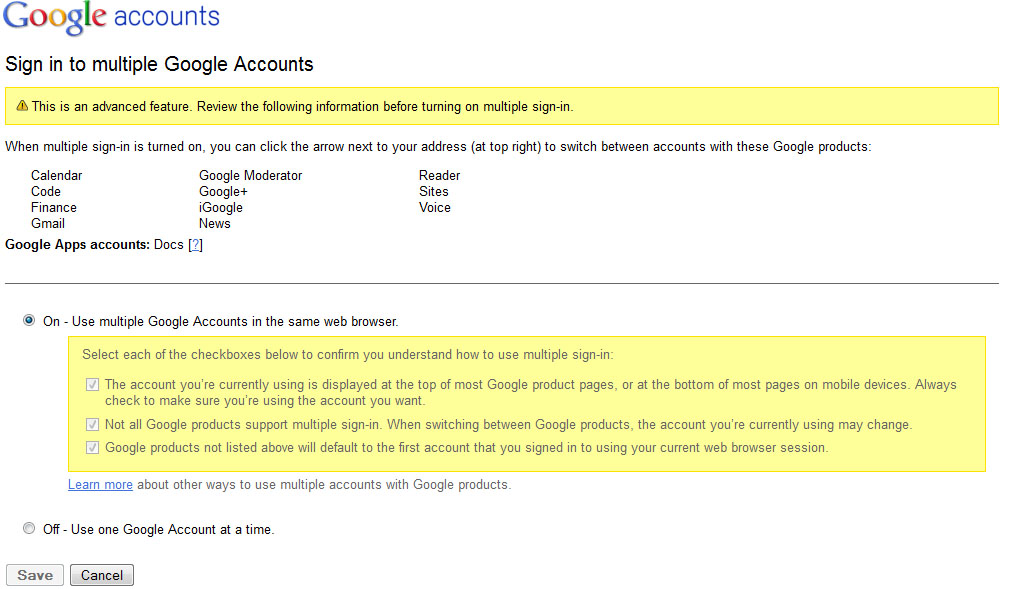 4. There will be a number of things to check in the yellow box below that button, which is simply you acknowledging you're your own worst enemy.
5. Click Save.
Do this for each of the accounts you want to be able to access at the same time.
Now when you log onto a Google account, you'll see your icon and e-mail address at the top right corner as usual. When you click on it to access the drop down menu you'd normally click to sign out, you'll now see a "Switch account" choice next to "Log Out."
When you click on "Switch Account" you'll have a choice of accounts you're currently logged into and you're given an option to log onto another account if you're not already logged in. (Just be sure you did the multiple account steps above for each account.)
They still warn you as you're logging into multiple accounts that you could post the wrong thing in the wrong account. They really do think we're idiots.
So be careful not to be in that special anonymous gmail account you created to talk to your secret lover when you plan to write to your spouse or Google will send you a "ha, ha, we told you so" e-mail (ok, not really).
It's not hard to know what account you're in. You see your avatar (if you've loaded one) and your e-mail at the top at all times indicating which account you're in so you really do have to be an idiot to not know what account you're posting in. (I use different avatars for each account so its easy to see at a glance.)
And there you have it. Enjoy no longer having to log out and in over and over all day long if you use multiple Google accounts.