I'm a real neurotic micromanager when it comes to my kids' safety.
My daughter's friend jumped off the couch and broke her leg. I never let the kids stand on the couch now. I live on a busy street. My kids are scared to death to get close to it lest mom start screaming like a wild banshee. There are still covers on all of our plugs.
But never once did it occur to me that my daughter's new reading lamp just might pose a life-threatening risk.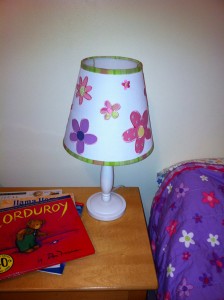 Sweetness got her lamp, queen mattress set and matching bedding for her fourth birthday. She loves to sit up and read so the lamp was a must have for her set.
Last night I heard her shuffling around in her room and saw that her lamp was on. After a little while of silence Hubby went in to turn off her light (as she usually falls asleep with it on). He came out and asked me to go into her room because there is a funny smell in there.
I went in and at first I thought something was burning, then I realized it smelled more like a port-o-potty. Why would she have that smell?
I checked her laundry, sniffed at her LED nightlight, then turned to her lamp. There, showing out of the bottom of the lampshade, was the base of her "magic wand" she'd gotten for her birthday.
This wand had a fabric rose, netting and a ribbon at the top.
Hubby and I got to the lamp at the same time and looked down.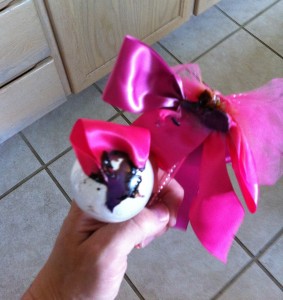 There, melted completely to the 25 watt lightbulb was her wand. The rose part of the wand was completely burned and melted. So was most of the pink netting.
I looked over at my sleeping princess, her head a little more than a foot from the lamp, and my heart skipped a beat.
What if it actually burst into flame? It wouldn't take much for those flames to reach her bed, hair and body. Yes, there is a smoke alarm in the room, and it hadn't gone off. But still.
I quickly started shaking her to wake her up, making sure the toxic fumes hadn't been the thing to make her pass out.
She responded and wasn't happy about being woken up. I showed her the wand and told her nothing goes in the lamp or I take it away. Look, it melted and now it's all gone.
I really don't think she got it.
I opened the windows in her room tucked her in with another blanket and told her it was going to get cold because we needed to air the room out.
Hubby went in and closed her windows before coming to bed two hours later.
Hubby tells me there's not a chance a 25 watt bulb is going to set anything on fire, but I don't trust it. I'm keeping a really close eye on her and what she's doing with her lamp from now on.
It could have been worse. Or maybe I'm just a neurotic control mom when it comes to safety. But it never hurts to keep an eye on things that can get hot, like light bulbs, in a child's room.
My mom tip today is to always be vigilant, and keep your eyes open to potential risks. I'm not suggesting our little darlings need to be smothered in bubble wrap, but giving their environments a fresh look for safety's sake could go a long way toward avoiding something unthinkable.