If you have young kids, or were a kid yourself at one time, you know about Sesame Street. And if you've been watching in the last several years, you've seen the current sponsor announcements before the show.
For about three years now I've been watching with my kids and every morning I hear the announcement from PNC Grow Up Great who sponsor the show. Finally last night I went to their website to learn more.
I feel like a total idiot for not having done this sooner. What an incredible resource of valuable information.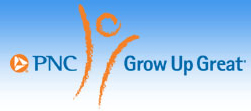 Basically, PNC (a financial institution) started Grow Up Great in recognition of the value of developing a love of learning in children from birth to 5. In their own words, it's "a comprehensive, bilingual program designed to help prepare children – particularly underserved children – from birth to age 5 for success in school and life. Through Grow Up Great, PNC supports families, educators and community partners to provide innovative opportunities that enhance learning and development in a child's early years. To this end, we offer leadership, advocacy, funding, volunteers and educational resources because we believe an investment in our children, the workforce of tomorrow, makes economic sense today."
For folks like you and me, the resources they offer on their website to help turn everyday things into learning opportunities is priceless.
They say research shows children are more successful in school when their natural love of learning is encouraged long before they set foot in a classroom. To help us encourage this love of learning, they've developed several curriculums, some in partnership with the Sesame Workshop (the folks who bring us Sesame Street), designed for parents and educators to foster curiosity and learning through everyday things like going to the grocery store, cleaning the house, washing the dog, etc.
You can log on and sign up for daily tips, or download the whole list. They offer podcasts, learning activities, and learning kits you can download. I'm really excited to use their "For Me, For You, For Later" savings kit. This curriculum includes messages from Elmo, printable labels for jars you'll set aside and use to teach young ones to put money aside for themselves (spending money), for others (like charity) and for later (savings), and helpful information on teaching kids about savings and money. Now that she's 4, Sweetness is noticing money and that it has some value. It's a perfect time to start this lesson with my simple pocket change.
So the next time you're feeling low on learning ideas or are needing a little encouragement to stay focused on learning opportunities as you suffer through power struggles (I speak from experience here), take a moment to visit this website.
My tip for today: Check out www.pncgrowupgreat.com and dive into the amazing tips, tools and insghts on encouraging learning in kids from birth to 5 to prepare them for success in school.