Last week I talked about the PNC Grow Up Great program and how it offers some great tips and tools to help our kids from birth to 5 prepare for a lifetime of learning. Today I'd like to talk about teaching conversation skills as recommended by PNC. But before I do, if you didn't check out their site, please don't hesitate.
Go now.
I'll wait"¦.
Did you go? Good.
If not, here's a taste.
It is really so very easy to introduce learning concepts in everyday life, and their program gives great examples that are mighty helpful for busy parents, like me.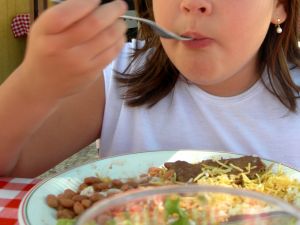 For instance, by simply asking kids how their day was or even "what was your favorite part of today?" as you're all sitting down to dinner helps kids learn to share their experiences while also learning the valuable skill of listening and talking.
When in school, kids need to be able to articulate thoughts, opinions and details. Encouraging them to start sharing early on, in a comfortable environment like the dinner table, gives them the valuable experience needed to develop these skills.
What's more, they'll learn about conversations, taking turns, sharing and listening, additional important skills for school. They'll learn to listen quietly when others speak, and they'll learn what it's like to be listened to when they speak.
As a positive discipline advocate, I love this tip as well for its important positive discipline benefits.
Taking time to ask questions of and listen to your children builds a sense of belonging and importance in the family within them. They feel included, special and important when the adults give them their full attention.
And, of course, I feel strongly every family should share one meal a day together if at all possible, no TV, no cell phones, no missing family members, etc. Family time is extremely important, and even more so when schedules get crazy. Kids need that sense of togetherness and sitting down to dinner to share about the day is a wonderful way to bring even the busiest families together.
My tip for today: Ask kids about their days when you sit down to dinner. This develops conversation skills and increases their sense of belonging and importance.
Do you have time to get the family together every evening and, if so, have you ever asked your kids about their days or other questions to get them talking? What kind of responses do you get in respect to how they react (not so much what they say)?