Weather the last week here in Seattle included snow, sleet, freezing rain, wind, ice, rain and slush. To say the kids are climbing the walls would be an understatement. I'm a big proponent of outside time every day, but with temperatures in the 20s and blowing freezing rain, outside was not something any of us willing to embrace.
And forget driving anywhere. The community center toddler play gyms, aquarium, Museum of Flight, and other rainy day haunts were closed, as were most other things in the area. Not to mention the treacherous roads.
Our little ranch house is not very conducive to being cooped up for more than a day. We don't have a family or play room. Their play areas are limited to their rooms, the living room and dining room. That got old fast for the kids as I struggled to get a little work done.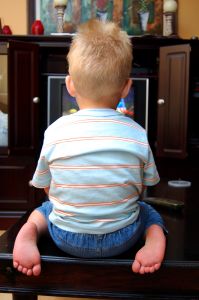 I confess I fell into the TV trap, then quickly learned from my mistake. I keep a fairly strict TV limit. They can watch Sesame Street in the mornings, a half an hour of cartoons or Wii after nap, and Friday nights are movie night where we get into our jammies, make a bowl of popcorn and watch a kid flick together.
The kids were climbing the walls by Thursday and I had to manage a few work items on the computer. I put on a movie. Later they played video games and I lost track of time. They were on it for an hour or so playing Wii Sports Resort. That evening we were so low energy we put on a movie.
The next morning the kids were up at 5 a.m. and more out of control than ever. And they asked to watch TV all day. Yikes.
I turned on the stereo and announced dance party. We dressed up funny (a fairy princess with wings and a dress for Sweetness, this strange native Hawaiian with a tiara for Mr. Man, and a silly hat for me) and boogied our hearts out. I have to admit, the exercise wasn't all that bad for me either. Though there is something a little concerning about their continued requests for Lady Gaga.
Once we were danced out I pulled out the craft box and the kids kept me working out as I set up and cleaned up as they kept changing their minds between painting, drawing and cutting with scissors. Luckily for me, after about two hours of entertaining them, they ran down the hall and started playing together in one of their rooms long enough for me to check mail and have some tea.
The day went much faster than the previous day as I played with them and they played together, and wouldn't you know, they weren't asking for the TV anymore. Kids really do prefer to be with us than Lightening McQueen or Sponge Bob. Best of all, they slept much better that night, meaning I got to sleep in too.
My mom tip today is to avoid the temptation to put the TV to use on bad weather days and get creative to keep your kids mentally and physically motivated. And as an added bonus you build connection and give them great memories they'll reflect back on when they remember their childhoods and those bad weather days.
What do you do to entertain your kids on bad weather days? I'd love additional ideas!