So yesterday we had a big, old snow storm. Lots of snow everywhere. Most everyone stayed home. It was cold, and blowing.
Today it turned into an ice storm. I've never seen a real ice storm here in Seattle before. It's rather beautiful if you don' t have anywhere to go. The icicles are 12 inches long all the way around the house. Great fun to photograph as long as you don't fall and break your head open on the stairs on the way out the door.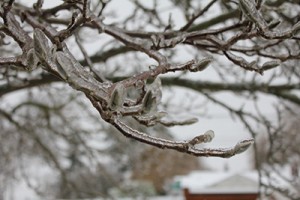 Hubby was home with us yesterday and made it a fun experience, playing in the snow with the kids and keeping us giggling. We were getting a little cabin fever with the kids climbing the walls. They didn't want to play outside because it was too cold and windy (they're such pansies about wind). I was grateful for him keeping me laughing.
We'd witnessed a run on toilet paper the day before at Safeway. What is it about a snowstorm and fear of running out of toilet paper? I joked with him that he should go out and get more. That pallet of toilet paper from Costco he got last Sunday wouldn't be enough to get us through two days. He offered to hold down the fort as I took the trek.
He reached for me dramaticly:
"I will find you. Just stay alive! I WILL find you!!!!" (a-la Last of the Mohicans)
I about peed myself. Thus, toilet paper…