In my readings on positive discipline and compassionate parenting, one thing I continue to come across is the importance of giving each child regular individual time, uninterrupted by siblings, the other parent, grandparents, the phone, etc.
I wish I could say I was good at doing this every single day. Sadly, sometimes the most individual time we're able to get in is the 10 minutes to read a book, sing songs and snuggle in the evening. But every once in a while we're able to get in some serious one on one time.
In the Heligirl household, Hubby likes to call it "divide and conquer." This is when one of us goes in one direction with one child and the other the opposite way. Sometimes it's to do practical things, like the chores, shopping, running errands, etc.
Yet there are also special times too.
If I have one child for running errands, I'll stop at the coffee shop for a little "us" break. We'll order hot chocolate (coffee for Mommy) and a snack then sit and talk a bit, enjoying our treats.
Then there are the big times, like whole weekends when Hubby heads out to visit his parents in Oregon, taking one child with him. I have to be honest. These are my favorite.
I clear my schedule and plan fun little things to do, just me and my baby.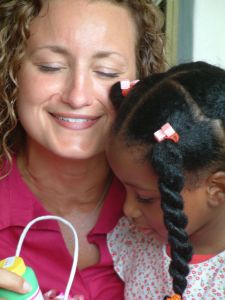 A couple of weekends ago, Mr. Man and I had the place to ourselves. Mr. Man loves the break from his sister harassing him 24/7, and he loves my undivided attention. We went to the park, went to "coffee" each day, had a play date with a friend a few months younger than him (which he LOVED – someone who played WITH him, not telling him what to do every minute like his sister does), watched a movie of his choosing, ate what he asked for at dinner, built space stations and launch pads out of Legos for his Space Shuttle, and read lots of books together.
While I do love family time and getting away together, I've become a real advocate of this special (divide and conquer) time. Not only is it so very rewarding to be able to focus on just one child, giving them your full attention most of the time, but it's also so important to build connection time with the kids.
My mom tip today is schedule time to be alone with your child (or each child if you have more than one), if you're not regularly having the opportunity to do this. This goes for spouses/partners too, especially if they're out of the house all day five days a week. Each parent taking time to connect with each child helps strengthen your relationship with your children, builds trust, and strengthens confidence.