Joy at The Practical Moms Guide recently posted photos of her daughter's first birthday party and how she dove into her cake. She shared how she did things differently with child number 2 than she did with child number 1. Then she asked for readers to comment on their own child-eating-cake stories. After writing possibly the longest comment ever, I realized this was too good to not share here.
Disclaimer: Be ye warned that you may never want to eat chocolate cake again (or feed it to your children) after reading this. Be grateful that I wasn't blogging back then and thus had no desire to photograph the following events for your viewing horror.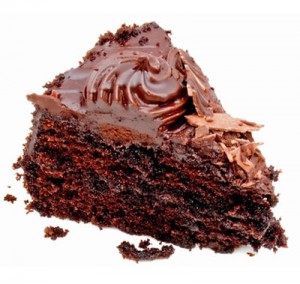 It was Saturday, September 20, 2008, the day after my baby girl's real first birthday. It was the day I'd been planning for the past six months, the big first birthday party. I'd bought decorations, decorated the house, invited lots of friends and family, hand-made little candle holders from baby food jars as party favors, found a cake maker who would make a cake to match the theme (and drove 25 miles round trip to get it), cleaned the house and bought a special first birthday dress for my little Sweetness.
Sweetness stole the show. She was adorable and her eyes got really big after everyone sang and that big piece of chocolate cake was put on her high chair tray. She dove into it with wreckless abandon. Hands, face, hair, high chair and floor were strewn with the cake carnage. She was grinning ear to ear. Nothing was left. Baby took after mama – chocolate addict at first bite.
Unfortunately, I didn't think this cake feeding thing all the way through.
Not long after the cake attack, everyone headed home. Hubby even left with his parents and extended family who wanted to go to the hell that is Chucky Cheese for Hubby's niece's birthday (which was three days later, but they decided to celebrate that night since everyone was together). I elected to stay home with an already slightly over stimulated girl. Our plan was to relax.
Once alone with me, Sweetness started to fuss. She couldn't possibly be hungry. Maybe she was thirsty. I sat down on the couch with her and prepared to nurse. She wasn't interested. Then she got a glazed look seconds before she let me have it.
She did what Hubby and I affectionately referred to as Exorcist Baby. She began puking profusely. First on me and the couch, then on the floor as I ran her to the kitchen and its tiled floor. As she sat on the kitchen floor she puked again, then started to cry.
I felt terrible. My poor little birthday girl. I'd made her sick on her chocolate cake. She was covered in chocolate cake puke and miserable. I was a terrible mama.
Then the smell hit me. I'd gotten a positive pregnancy test 15 days earlier (Mr. Man) and morning sickness set in just three days before. I was doing all I could to act normal around the family. Luckily, they weren't there to see this.
I swooped Sweetness up and ran into the bathroom. I started a bath for her as she puked again on the bathroom floor and put up the toilet seat for me. I swallowed hard several times, but avoided a repeat of her show, thank God.
Breathing through my mouth and gagging all the way I pulled off her clothes and started washing her down. As I rinsed her off, I had a thought that made my heart stop.
The dogs!
I ran out into the living room. No puke. I ran into the kitchen. There the two 5-pound Chihuahuas were happily licking the now clean floor. Chocolate…dogs…lots of chocolate…little dogs. Oh God!
I grabbed the phone and called the emergency vet. The vet tech told me coco powder in chocolate cake wasn't as toxic as solid chocolate, but they'd best be made to puke ASAP. Give them hydrogen peroxide, 5 ccs should do it.
I ripped open the closet and for the grace of God found I had hydrogen peroxide. Why or how I'll never know. I also had a syringe from when I gave one of them medicine at one time I can't even remember.
I dried off Sweetness, who was now crying again because she was cold, and dressed her. Then put her in the safety of her crib before pulling the dogs into the bathroom.
I pulled up the bath mats and started giving them the fluid. For the record, you can get your 5-pound dog to puke his guts out and dry heave for a good 10 minutes with just 4 ccs. Just so you know.
Are you still with me? I now have a couch, living room rug and dining room rug with puke juices in it. I also have a bathroom full of now twice regurgitated chocolate cake.
And I'm pregnant with bad morning sickness and the superhuman pregnant sense of smell.
I locked the dogs into the bathroom, locked myself into my bedroom, opened all the windows and called Hubby.
"Sweetness puked, the dogs ate it (gag, dry heave sound), I had to make the dogs puke and I'm about to follow suit (gag, dry heave, ka-hhhaaaa). Please come home and clean up the puke or I just might die."
Hubby was more than happy to leave the seventh level of hell (Chucky Cheese) and come home to clean up puke, so it was a win for him.
A week later after the carpet cleaners came was I able to breath through my nose in my house again.
The end.