We went to Maui for five days last week and had such an adventure I'm sharing it in pieces. To catch up, you can start here with the mother of all plane rides, followed by my experience with Satan's car rental agency. Enjoy!
When we last left our heroes they were soaking in the hotel kiddy pool, letting the stress of the travel day wash away.
Our first night went about as I'd expected. The kids didn't know where they were and as such didn't sleep very well. I did bring the iPod and portable speakers so I could play the soft music Mr. Man is used to hearing at night in his room. But we didn't have the kids in the same room, so Sweetness had to buck up.
Hubby bought some local Hawaiian microbrew for us to enjoy after the kids went to bed. Unfortunately, despite the long day, their little bodies stayed on Pacific time and they weren't the least bit interested in bed until about 9 p.m. Hawaiian time (which in all fairness is an hour earlier than usual for the kids as they typically go to bed at 7 p.m. back home.)
We did our best to keep with the routine. They took a bath together, got into jammies, brushed teeth, then hit the sack. Mr. Man was in his portable crib in our room and Sweetness was to sleep on the hide-a-bed in the main room of the suite. We decided to put her down in our bed and transfer her when we were ready for bed. Of course, no one would go to sleep. I finally went in and laid down with Sweetness until she passed out. Then came out to enjoy the beer with Hubby. I think I had ¼ of the bottle before I felt like I was going to fall over. I was exhausted and hit the sack. Hubby transferred Sweetness when he came to bed.
The crying started at about 2:30 a.m. and continued on and off until about 4:30 a.m. when we decided everyone was up, let's just get up. It was 90 minutes after they'd be up in Seattle anyway. Hubby had a great idea. Let's head up to Haleakala to see the sunrise since we're up so early. Haleakala is the southern volcano on Maui (means the House of the Sun I'm told) and is a National Park. Other than being otherworldly, is is also unique in the fact that in 37 miles you drive from sea level to 10,000 feet, the highest you can drive in the shortest distance on the planet. Cool.
We had our cereal in the room and hit the road after Mommy hit Starbucks for the world's most expensive tall Pumpkin Spice Latte. (Does it really cost $2 more to make a latte on Maui than in Seattle? Seriously?)
It was an absolutely gorgeous drive up and the kids did great, even passed out on the way. Once up at 10,000 feet we were blessed with clear skies and very little wind. It was chilly, but our jackets kept the chill off. We could see as far north as Oahu and south at the Big Island of Hawaii. The crater is just plain otherworldly.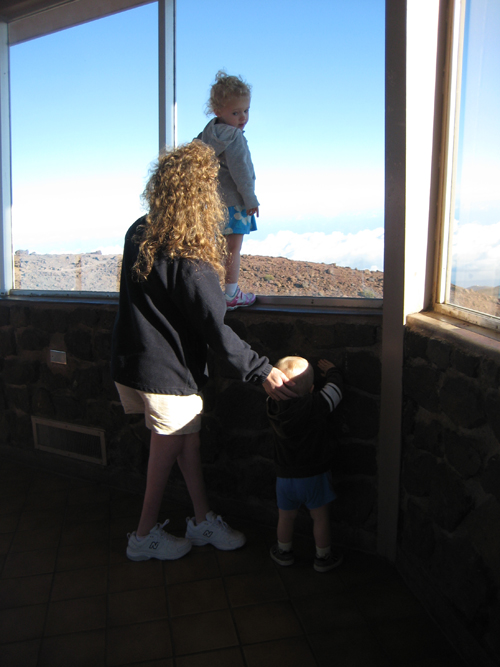 Mr. Man was completely enamored with the Nene's. These fat Hawaiian birds were everywhere up there and he thought they were the neatest thing in the world. He kept signing "bird" and saying his version of "cheep, cheep, cheep." I wish we could have found him a stuffed animal Nene, but there were none to be found. I was really bummed when I got back and realized I didn't get any photos of him with them. But he's pointing at them in a few shots.
Sweetness was really getting into learning what an island was. She could see so many from that vantage point and I think she was getting her head around the notion of a piece of land surrounded by water.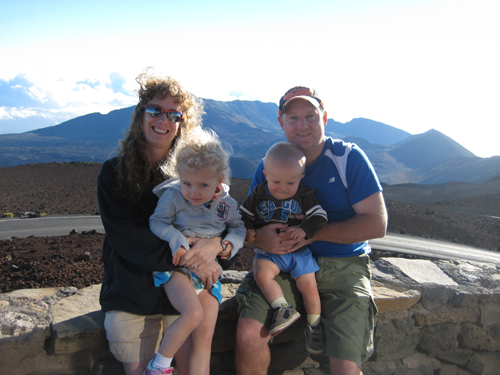 We got there after sunrise, as luck would have it, but that meant we had the place to ourselves. The sunrise folks had already left, and there were just two other couples up there. Pretty cool.
At that point it was about 9 a.m. and second breakfast was sounding mighty nice. We headed down the mountain and the kids passed back out.
Then about 2/3rds of the way down, Sweetness started crying. I asked her if she was ok. Did she need to yawn to pop her ears? Her response was an eruption. She puked up the entire package of chocolate bunny crackers she'd eaten at the top of the mountain. The good news was it only smelled like chocolate and not the festering stomach acid of most child puke. Didn't keep me from gagging as I cleaned it up though.
We pulled over and yanked my puking princess from the car. We stripped the poor girl naked and used every last wipe in the car to clean her, the car seat and the car. Luckily I'd taken her sweatshirt off before the drive down so she had one clean thing to wear. The poor sweetie probably had a combination of car sickness and altitude sickness.
As soon as we got things cleaned up we finished the trip down the mountain (very slowly I might add) then made a b-line for Walmart where I got her a new dress, more wipes and auto fabric cleaner (though deep down I felt Thrifty deserved a puke smelling car). We put on the new dress then headed for Denny's. Both kids tanked up on pancakes before we headed back to the hotel for some pool time, a little frazzled, but laughing that it wouldn't be a family vacation without these stories.
After changing at the hotel we started heading to the pool when we crossed paths with an Australian couple with a baby hauling their luggage to the elevator. The mum looked at Mr. Man and asked if we were staying a while. Then she sent her husband back to the room to fetch the baby flotation ring they'd bought and were just going to leave rather than pack back Down Under. We were floored by their kindness and thanked them profusely.
We had an excellent pool playtime that day. Mr. Man in his new floating ring, complete with seat so he doesn't fall through, could walk around the toddler side of the pool quite easily and we only needed to walk alongside rather than carry him. Other than a few crying spells from Sweetness over the hot pavement, we had a nice afternoon.
Naptime was a joke, though. Literally. The two kids in the same room had so much fun cracking each other up, giggling and flopping around. Most of the time we didn't have the heart to yell at them to go to bed. That's what vacations are for, right? Laughing and playing. I could totally see my brother and I doing exactly the same thing.
We took it easy that afternoon then met friends for dinner (kids and all) before hitting the hay. The exhausted kids were out pretty quick. Sadly, I passed out too while snuggling with Sweetness. So far were 0 for 2 in the "mommy and daddy time" department.