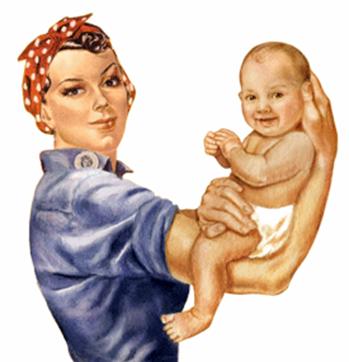 I've been having quite a dilemma lately. Do I become a full time stay at home mom, or do I continue to work 25 hours a week?
A part of me sees my kids growing so fast and wants to be around to share every last second with them. I want to have playdates, get more involved in their preschools, meet up with other moms, take the kids to cool places like we did on Wednesdays all summer, explore their world with them every day. I want to come up with cool craft projects and do one a day, choosing a theme for the week and focusing on fun things from books and games to art projects and field trips around that theme. Sometimes I think if I didn't have my day job, I might be able to do these things.
Before I know it they'll be at school all day every day and this precious few years of being their world will come to an end. I want to savor it.
The other part of me realistically sees I'd be limited in my ability to pay for zoo, aquarium, museum and science center memberships; gas; craft supplies; coffee at the coffee shop playdates, etc. if I quit my job. If I choose to stay home, I'll be forced to do just that – stay at the house or in the neighborhood. That's a catch-22 right there.
Then there is my patience. When I have the kids a few days straight, I'm desperate for uninterrupted adult time. I think one of my favorite things about working is the ability to sit down until I need to get up and pee. The time at work actually recharges my batteries some days. I used to feel so guilty about these feelings. I've gotten past these guilty feelings. For me, I just had to accept I need that time of peace and change of pace to be the best mom I can be (calmer and more patient, which makes it easier to keep with my positive discipline).
If I quit, I can't afford childcare so I won't get a break when I need it. Can I do that?
And what about all the great leaps and bounds Sweetness is making from going to an in-home daycare with just 9 other kids two days a week? Just this past week I witnessed a child in Mr. Man's preschool have a hard time with other kids. His mom kept apologizing, saying he's not used to being around other kids and her hopes is the two hour a week mommy and me preschool will fix that.
I strongly feel, even for SAHMs, children need to have abundant opportunities to develop social skills in groups. And not just groups where every child's mom is hovering nearby to intercede. I've heard from more than one teacher pal that they see kids who had some childcare/preschool experience away from home be far more advanced socially than those who stayed home with mom or dad and had limited group experiences away from their parents during their first five years. I'd need to come up with the cash for the kids to attend at least once a week to keep those skills going, which would mean even less cash to do things with the kids myself. Sigh. Though I do fantasize about finding  four or five other SAHMs and setting up a four-hour preschool-like arrangement where we develop a curriculum, rotate houses where we meet, and two of us work it each week. That way we'd all get a couple of days off to ourselves while the kids get time together away from mom. One can dream.
As I battle back and forth on these things, I've been noticing a couple of my favorite bloggers are also talking about this. Adriel from the Mommyhood Memos recently did a whole series on Working Moms, whether they be working at home, working outside the home, or working full time as mom. Those discussions Adriel got going with her readers were mighty helpful. I read many of my own thoughts in there, and got some good honest details from stay at home moms. There are as many ups and downs for those ladies as there are for us working outside of the home, even part time.
Also, Rebekah at Thoughtful Momma recently wrote a post about false assumptions from either side of the fence that also got me thinking. No one has 100% job satisfaction, whether it's at work or as a SAHM. We each have to make decisions based off our own personalities, abilities, limitations and needs. No one can judge another's decision because only you are in that place.
Whichever way I decide to go, there will be pros and cons. And maybe only working 25 hours really is the best answer for me and I'm only getting a "grass is always greener" pangs about being stay at home. I just hope I come to a decision I'm satisfied with soon. I can't stand this back and forth.
What are your thoughts? What are the pros and cons to your "working" situation, whether it be out of the home, working in the home or working as a stay at home mom?