Another Heli-Expo has come and gone, but the memories remain. As I reflect on all that took place these past several days, I'm reminded there are some great lessons in there.
Be grateful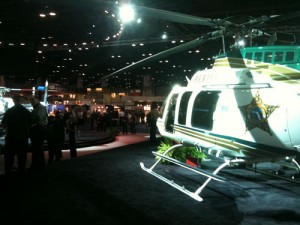 Walking around among these absolutely gorgeous and amazing machines, it's hard not to get some perspective. I work in the helicopter industry. I'm being paid to be in Orlando to be surrounded by helicopters for four days. What isn't cool about that?
Despite some of the tough stuff I've gone through the past several months, the fact remains that I'm still very involved in an industry that gives me extreme pleasure and that I love with deep passion.
I am very grateful.
Show no fear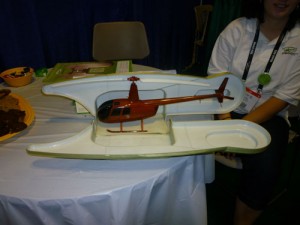 Our booth was right next to one of this brand new startup company called sHeli-Port. They made these fiberglass enclosures for your helicopter you could use to ship, store and protect your hovering investment.
I have to be honest, when I first looked at it I was a bit skeptical. Yet the company owner, his wife and kids worked the crowd as they came through and I was very impressed with the kind of interest they received.
Just goes to show, it really does pay to be innovative, make that leap, and show no fear.
Go where you're invited
I've done my share of parties at Heli-Expo. When I first started, they were catered gatherings in hotel ballrooms open to anyone and often including some kind of live band or DJ. That was 15 years ago. With the oil industry booming and orders for helicopters on the rise, the helicopter manufacturers have bumped things up a bit. Their parties are more elaborate, and they're cracking down on invitation only.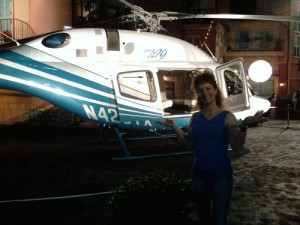 The first night Bell Helicopter promised a night of enjoyment for its customers. Those of us invited were told to meet at the bus loading area of the hotel. We were soon whisked off to Disney World's Hollywood Studio park. Bell rented the whole set of the park's live motor show to host dinner, drinks, DJ music and a photo booths where we were encouraged to ham it up.
The second night I was thinking I'd just hang out, get to bed early, relax, you know, get that sleep I'd been talking about. But my pals at my organization kept pushing the Eurocopter party. It promised a night of enchantment only Harry Potter could provide. I caved and that night was again on the bus headed this time to Universal Studios Orlando's brand new Harry Potter section of the park.
I have to say, Eurocopter outdid themselves. We had the whole section of the park to ourselves and Universal delivered in true movie magic fashion. Food and drink stations were spread out among the World of Wizardry with electric candles and props keeping the illusion. Theme park actors in costumes from the films gave performances and, the best of all, the roller coasters were running, just for us.
I have to admit I rode the E-ticket Dragon Challenge suspension coasters (there are two that run together) more times than I can remember. There were no lines most of the time (just a 10 minute or so wait if you wanted to ride in the front). My buddy and I figure we rode each of the dragons about five or six times. Coolest party EVER.
The third night I was sure I'd just relax, but I was invited to the Turbomeca engine manufacturer party at Margaritaville at Universal City Walk. It was fun to catch up again with more buddies that evening and enjoy some tasty food. And I got my picture with a parrot on my shoulder (though I never did go back and get the photo).
So I didn't do all the relaxing and sleeping I'd planned on, but I did forge some new relationships, strengthened others and got my little PR company's name out there.
So, it just goes to show, going where you're invited can pay off, even if you lose sleep.
Value friendships
When my job disappeared and I started feeling lost, the helicopter industry embraced me. Friends, colleagues and companies I'd known and worked with in the past rushed in to support me with love, support and work opportunities.
Showing up at Heli-Expo I wasn't embarrassed to say I was laid off. I talked about my new venture and folks were excited to learn more and pass along my name and number. Even folks I hadn't seen or talked to in years stood by me. Just goes to show some friendships are there for life.
Fall in love
Those that know me know Airwolf was the spark that ignited my passion in helicopters. When my cell phone rings, it's the Airwolf theme. I have a model of the helicopter on my desk. And when I see a Bell 222, or its later incarnation, the Bell 230, I always stop and admire.
So my day was made when I saw this beauty on the show floor: